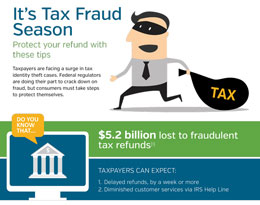 For years, my wife has filed our taxes online without any issues. This year was no different. However, tax fraud and breaches have consistently made the nightly news. Last week, my cousin and her husband found out that somebody tried to file taxes using their information.
IDT 911 and West Bend have collaborated to provide our insureds with the option to buy insurance coverage to protect them against identity theft. IDT 911 has written an article titled, "3 Ways to Protect against Tax Identity Theft"
The article offers three tips that may protect you from identity theft.
File early. The sooner you can file your taxes, the better off you'll be. As soon as we receive our W2's in January, my wife is online and filing.
Only carry what you need. Don't fill your wallet or purse with personal documents that don't need to be in there, especially your Social Security card.
Watch the mail. Pay attention to what's delivered in your mailbox. The government will mail Social Security statements in the mail. Never toss them in the garbage. The best option is to shred the statements.
For more tips and information from IDT911, check out their infographic, "It's Tax Fraud Season."
Another big scam this year involves callers who claim to be with the IRS and have a warrant for your arrest. The IRS doesn't make threatening phone calls and urges taxpayers not to share their financial information with or make payments to anyone.
Check out their article titled, "IRS Completes the Dirty Dozen Tax Scams for 2015." It explains what scams are out there this year. In addition, here's a brief video from the IRS with more information about how they conduct business.
Do you have any tips you'd like to share? I'd love to hear them. Please share them in the box below.