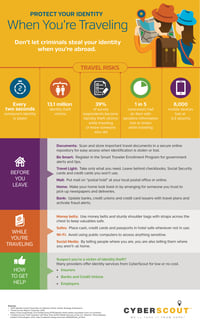 If you live in a cold weather climate, spring break can be the highlight of your year. Traveling to a warmer climate for some rest, relaxation, and warm sun can be rejuvenating.
Or maybe after years of dreaming and planning, you're finally taking the trip of a lifetime with your family this summer. No matter where you're going, there are some safety tips to keep in mind to protect your identity.
CyberScout and West Bend have collaborated to provide our insureds with the option to buy insurance coverage to protect them against identity theft. CyberScout has created an infographic titled, "Protect Your Identity When You're Travelling."
The infographic shares some interesting travel risks, as well as things you should do before you leave and while you're traveling, and how to get help. Here are a few key points from the infographic.
Before you leave. Consider storing your travel documents in a secure online repository. The advantage is that you'll always have access to your documents if they're lost lost or stolen. In addition, consider enrolling in the Smart Traveler Enrollment Program for government alerts and tips.
While you're traveling. Avoid using free public Wi-Fi or computers to access sensitive data. Instead, contact your cell phone provider to learn about their international plans and coverage areas. They may provide a data package you can use when traveling outside the United States.
How to get help. If you suspect you're a victim of identity theft, help is available. CyberScout may be available through your insurance carrier. If not, you can still contact CyberScout for individual assistance.
For information on travel scams, check out the article, "Don't Fall for These Common Travel Scams."
For additional travel tips, check out these articles.

A guide to tipping when on vacation
Just had an accident with your rental car. Now what?
10 tips to help you enjoy spring break
Protect your family before going on a trip
Spring break travel: The science behind turbulence
Seven tips for staying healthy before and during vacation
Do you have any tips you'd like to share? I'd love to hear them. Please share them in the box below.