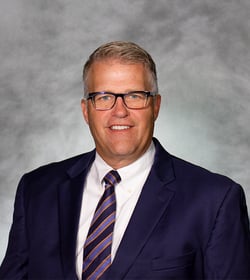 WEST BEND, WI (October 11, 2022) – West Bend Mutual Insurance Company announced the promotion of Rob Jacques to president. Jacques has been with the company for 22 years and is a senior officer leading West Bend's Commercial Enterprise. As president, he will continue to support the company's corporate strategies and operating principles.

Kevin Steiner, current president and CEO, will remain as CEO and looks forward to working with Rob Jacques in his new role as president.

"Rob has the support of an excellent group of officers and leaders at West Bend. He's a strong advocate of our company's culture. He recognizes that the outstanding success our company has enjoyed for the past decade is due to the relationships we've built with our associates and agents working for and representing our company," stated Kevin Steiner.

Rob Jacques also serves as a director on the boards of the West Bend Area Chamber of Commerce, Feeding America Eastern Wisconsin, and the Kettle Moraine YMCA.

For more than 125 years, West Bend has been providing valuable insurance coverages and services to business owners, as well home and auto owners. West Bend has earned a reputation in the industry for building and nurturing strong relationships with agents through personal contact, responsible actions, and a genuine concern for its valued partners. Today, more than 1,500 independent insurance agencies across 15 states represent West Bend.