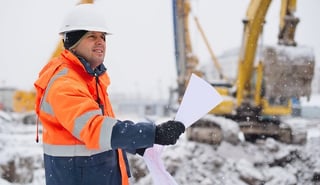 Outdoor workers are exposed to many physical hazards depending on their responsibilities, the season and duration they're outside. In winter, extreme cold and wet conditions can present a number of health risks.
The body has to work harder to maintain its temperature in cold environments. Heat leaves the body more rapidly when the temperatures drop below normal and wind speed increases. Cold stress can occur by driving down the body's skin and core temperatures that may lead to serious health problems.


The most common cold induced illnesses/injuries include:
Hypothermia – A condition in which the body uses up its stored energy and can no longer produce heat. This often occurs after prolonged exposures to very cold temperatures.

Frostbite – A bodily injury caused by freezing that causes a loss of feeling and color in affected areas, typically the extremities.
Trench foot – Also called immersion foot, this is caused by prolonged exposure to wet and cold temperatures. Surprisingly, it can occur at temperatures as high as 60 degrees F if the feet are constantly wet.
Chilblains – Painful inflammation of small blood vessels in your skin that occur in response to cold but not freezing air.
*If a person's temperature is below 95 degrees Fahrenheit, get medical attention immediately.
How to dress warmly and stay dry
What to wear:
A hat;
A scarf or knit mask to cover face and mouth;
Sleeves that cinch at the wrist;
Mittens when possible vs. gloves as they are warmer;
Water-proof boots and coat; and
Several layers of loose-fitting clothing.
Inner layer: Wear fabrics like wool, silk, or polypropylene that will hold more body heat than cotton.
Insulation layer: Natural fibers like wool, goose down, or fleece work best for this layer that will help you retain heat by trapping air close to your body.
Outer layer: This layer helps protect you from wind, rain and snow. It should be tightly woven, and preferably water and wind resistant.
More ways to protect yourself
Monitor your physical condition and keep an eye on your coworkers too.
Protect the areas most affected by cold stress such as ears, face, hands, and feet.
During breaks, move into warm locations. Limit your time outside when possible.
Carry extra, dry clothing such as socks, mittens/gloves, hats, jackets, blankets, and a change of clothes.
Include hot packs in your first aid kit.
Avoid touching cold metal surfaces with bare skin.
To read more about the signs, symptoms, and how to treat cold stress, visit the OSHA website.
NOTE:
The Occupational Safety and Health Act (OSH Act) requires employers to comply with hazard-specific safety and health standards. In addition, pursuant to Section 5(a)(1) of the OSH Act, employers must provide their employees with a workplace free from recognized hazards likely to cause death or serious physical harm. Emergency Preparedness Guides do not and cannot enlarge or diminish an employer's obligations under the OSH Act.
Emergency Preparedness Guides are based on presently available information, as well as current occupational safety and health provisions and standards. The procedures and practices discussed in Emergency Preparedness Guides may need to be modified when additional, relevant information becomes available or when OSH Act standards are promulgated or modified.
Resources:
https://www.cdc.gov/disasters/winter/duringstorm/outdoorsafety.html
https://www.osha.gov/SLTC/emergencypreparedness/guides/cold.html
https://www.cdc.gov/niosh/docs/2010-115/pdfs/2010-115.pdf
https://www.cdc.gov/niosh/topics/outdoor/
https://www.cdc.gov/phpr/documents/hypothermia-frostbite_508.pdf