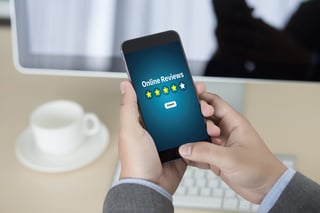 Everything you read on the internet is true, right? This topic has been forged into the spotlight and it's become top of mind in recent months. In today's fast-paced world, it's easy to be inundated and overwhelmed with the amount of information shared on radio, TV, websites and social media. However, we owe it to ourselves, and others, to slow down, take time to verify information and ensure what we're reading and hearing is factual.
Online reviews
Something similar can be said for online reviews. Today consumers can type up a review before they even leave the store, restaurant, or hotel. With just a few clicks and not much effort, someone can convey their satisfaction or disgust with an establishment. At West Bend, we believe in excellent service and accountability, however, this trend has opened the door for misinformation, and in some cases, unreasonable complaints. Questionable review websites exist and many only allow complaints, leaving no option for companies to respond. We always recommend consumers use reputable sites like Better Business Bureau. The standards of BBB accreditation include building trust, advertising honestly, telling the truth, being transparent, honoring promises, being responsive, safeguarding privacy, and embodying integrity. Isn't this the type of review site you'd trust?
Something doesn't look right
If you're going to leave complaint on a website, take a good look at the site. Here are some tips:
Are images used where text should be?
Verify if their address is legitimate. We found a review site that appears to be running out of a storage unit.
Try to contact them. If they're unreachable, it's likely the website isn't legitimate.
Is there an option for the company to respond?
If your reputation was on the line, wouldn't you want a fair shot to respond to complaints?