Young Drivers Program
West Bend cares about keeping teen drivers safe. That's why we offer our policyholders many resources to help their teens learn and incorporate safe driving techniques.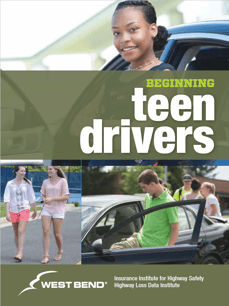 Two teen driving programs are available to our policyholders at a discounted price. We've partnered with Road America in Elkhart Lake, Wisconsin to offer in-vehicle driving programs where participants experience common emergency situations while in a safe, controlled, off-street environment. Drivers practice collision avoidance techniques that include emergency lane changes, braking, skid control, and a variety of other fundamental car control drills.
We also partnered with ADEPT to offer teenSMART, a computer based program that includes video learning segments, realistic driving simulations, and parent-teen, in-car driving activities.
To learn more about these programs, click the appropriate link below.
That's not all! West Bend also provides annual premium discounts to those Home and Highway policyholders whose teen drivers complete one or both of these safety programs!
We hope you'll take advantage of our other resources ...

Download and discuss the Teen Driving Contract. This valuable agreement between teen drivers and parents helps set expectations for those who are new behind the wheel.

The IIHS provides important information in our Beginning Teen Drivers brochure.
On our blog, West Bend Cares, we share a multitude of safety tips, not only for your new driver, but for family and pets, too!