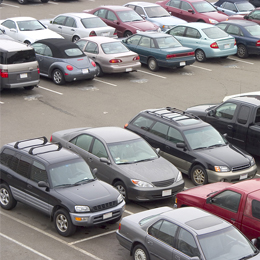 It's hard to believe it's already September! Where has the summer gone? If you have a teen driver, now is a good time to share some safety tips on a common hazardous driving area: school parking lots! Regardless of your child's age, when that bell rings at the end of the day, the kids scatter in every direction, paying no heed to safety rules. So, it's up to those who are driving to be responsible and take all possible safety precautions.

As much as we like convenience, parking farther away from the school, in a less congested area, can be a good idea. It may require that your child take a few extra steps, but it can also reduce the chances of an accident and injuries to your child.
1. Keep conversations to a minimum.
Make a rule that once everyone is in the vehicle, you won't jump into conversations, you'll turn off the radio, you'll shut down all cell phones, and everyone will look in ALL directions for pedestrians, bicycles, and other vehicles.
2. Pick a parking spot that you can pull through.
This helps avoid backing and turning hazards. If you must park in a parking stall, try to arrive early when there's less traffic and fewer people.
BACK
into the stall so when it's busier, you can be more cautious when pulling out.
3. Be sure to travel in the directions designated in the lanes of the parking lot.
If you're going the wrong way, drivers who are backing up may not see you because they might not look in that direction. Even if someone else backs into your car, you'll still be a fault for not following the correct traffic pattern.
4. Arrive a few minutes later.
If you arrive 5-10 minutes later when you're picking up your kids, your chance of being in an accident is reduced by as much as 50%! Give it a try! You'll be AMAZED at how much less congestion there is, not only at school but throughout your entire trip home.
Parents and teens alike must get adequate rest to drive attentively. Being awake for 18 consecutive hours is equivalent to driving with a blood alcohol content of .08, the legal limit in Wisconsin!
If there is an accident, make sure all drivers in your household know what to do. If the accident occurs in a parking lot and police are not contacted, be sure to gather as much information as possible, including the name, phone number, address, and insurance information of the other driver(s), and the color, type and license plate number of the vehicle(s). If there are witnesses, get their contact information, as well, and take photos if possible to avoid fraudulent claims later on. West Bend's Claims Assistance App comes in handy if you have an accident and is easy to download on your iPhone or Android.
So make sure EVERYONE in your household is up to speed on the safety practices for school zones and parking lots. Then slow down and take the time to smell the roses. The few minutes you might save aren't worth the frustration or the cost, and they're REALLY not worth your child's safety.
Do you have any tips you'd like to share? I'd love to hear your thoughts; please share them in the box below.
This blog was written by Personal Lines underwriter Joyce Schuett.