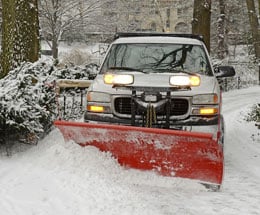 Are you tired of shoveling snow this winter? Were you injured while cleaning up after a big storm? If the answer is yes, it may be time to hire a snow removal service.
My parents recently hired a snow removal service. To them, this is money well spent since they live on a corner lot with an expansive sidewalk. Instead of worrying about the cleanup, they can just sit back and enjoy their coffee on a snowy winter day.
If you're interested in hiring a snow removal service, here are some things to consider.
1. Talk, don't text. Finding a quality snow removal service can be challenging. The days of looking in the Yellow Pages are long gone. A great way to find a reputable company is to talk to friends, family members, or co-workers. They can share how much snow removal costs, the type of workmanship the business provides, and if they're reliable. For any business, referrals are golden.
2. Shop around. After you have the names of some snow removal services, get a few estimates. How an estimate is presented can tell you a lot about the company. In addition, prices and services can vary. Lastly, estimates should be in writing.
3 . Check with the Better Business Bureau. Checking with the BBBwill allow you to see how the company is performing in the eyes of their customers.
4. Understand the service being offered. Before signing on the dotted line, you should understand what services are being offered. Check out the website and social pages to learn more. Here are some questions to ask.
When will my property be cleared? During the storm and after or just after?
Where will I fall on the priority list? If they have many small businesses in their mix of customers, the businesses will get first priority. My parents are usually at the end of the list, but they're fine with that.
Are they strictly removing snow or will they put down salt after a wintery mix?
Will extra charges apply on weekends?
Is the fee a flat charge or does it depend on the amount of snow?
5. Get the contract in writing. Don't agree to the terms of service over the phone. A written contract, explaining all the terms and conditions, should be provided. If a dispute arises and you don't have a written contract, finding a resolution can be very difficult. Lastly, pay attention to the contract's termination policy. Some contracts may auto renew from year to year.
6. Confirm they carry insurance. The last thing you want is to pay for damage to your property because of their poor workmanship. Make sure they carry Liability and Workers' Compensation insurance.
7. Pay attention to their equipment. Professional, reliable contractors will maintain their equipment. Accidents do happen and a truck may have a dent or two; however, if a contractor shows up at your house in a beat-up pickup and you're wondering how it stays together, this may be a weekend warrior looking to make a quick buck.
Do you have any tips or information you'd like to share? I'd love to hear them; please share them in the box below.
This article is intended for general educational and illustrative purposes only and should not be construed to communicate legal or professional advice. Further, this article is not an offer to sell insurance. Please consult with your licensed insurance agent for specific coverage details and your insurance eligibility. All policies are subject to the terms, conditions, limitations, definitions, and exclusions contained therein.