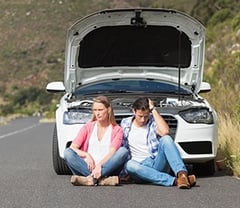 Have you ever been stranded on the side of the road because your car stopped working or you had an empty gas tank, flat tire, or dead battery? If you are on your way to a vacation destination, this is definitely NOT fun.
If you had roadside assistance, however, it would eliminate some of the stress associated with a breakdown. Maybe you've considered purchasing an AAA membership specifically for roadside assistance.
Kim Bechler, senior personal lines underwriter will discuss how TravelNet® works with West Bend's Home and Highway® policy.
TravelNet emergency roadside assistance is available for a minimal additional premium charge for each of the vehicles covered on your Home and Highway package policy. TravelNet provides roadside assistance for a variety of emergencies, including towing, tire repair, fuel delivery, battery jump-starts, and lockouts.
In addition, if an accident or disablement occurs to your covered auto over 100 miles from your home and your trip must be delayed because of repairs, TravelNet will provide up to $250 for lodging, meals, and bus or taxi fees.
TravelNet is available 24 hours a day, 365 days a year. And it's easy to use. You simply sign and drive. You're covered for the cost of the service(s) up to the limit on your policy.
TravelNet offers three limits: $100, $125, and $150 per vehicle. This means West Bend will cover the expenses you incur up to the limit you choose. You decide if you want this coverage for all or just some of the vehicles insured on your Home and Highway policy. This coverage doesn't require the vehicle(s) to have other than collision or collision coverage, and it can be purchased for your private passenger autos, motorcycles, and motorhomes.
If you do a lot of traveling and you don't want to be left stranded on the side of the road consider adding roadside assistance to your policy!
Do you have any information you'd like to share? I'd love to hear from you please share them in the box below.
This article is intended for general educational and illustrative purposes only and should not be construed to communicate legal or professional advice. Further, this article is not an offer to sell insurance. Please consult with your licensed insurance agent for specific coverage details and your insurance eligibility. All policies are subject to the terms, conditions, limitations, definitions, and exclusions contained therein.