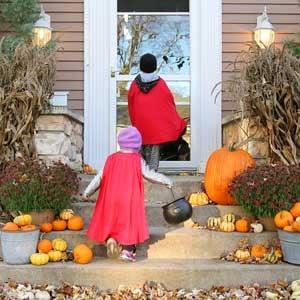 In a few weeks, kids in costumes will be roaming your neighborhood on a mission to fill their bags with goodies. While this is a fun tradition, keeping your home and yard safe is important so your Halloween visitors stay safe, too.
Here are some tips to keep neighborhood trick-or-treaters safe.
1. Tighten loose handrails and floorboards. If trick-or-treaters are going upstairs to your front door, could you ensure handrails are secured, and loose floorboards are tightened? Kids wearing costumes may have trouble moving up and down the stairs and will rely on a handrail. In addition, if there are pumpkins or other decorations on your stairs or porch, it may be wise to remove them.
2. Remove low-hanging tree branches. Ensure any trees close to your sidewalk or driveway are adequately pruned so the ghosts and goblins can safely navigate.
3. Mark raised or uneven surfaces. In colder climates, winter weather wreaks havoc on driveways and sidewalks. If concrete surfaces in and around your yard are raised, mark them with florescent paint so little princesses don't trip. If uneven pavers lead up to your front door, rope off the section that could cause them to trip and fall.
4. Remove yard debris. Cold temperatures and strong winds or rain can take leaves off trees quickly, so rake up those leaves and remove yard debris. The shortest route to your front door may be through your yard. Wet leaves, tree branches, and decorative items can be hazardous to a Storm Trooper's health.
5. Light up your property. If your community's trick-or-treat hours are after daylight, ensure your outside lights work. Now is an excellent time to replace burned-out bulbs. Consider using even brighter bulbs if they meet the recommended wattage. Don't rely on magical wands or lightsabers to light on your property.
6. Keep your pets in a safe place. The constant ringing of the doorbell and many visitors may stress out your pet. Keep pets in a bedroom, away from all the noise and commotion. And don't forget: Chocolate can be deadly to pets!
For more Halloween safety tips, check out these blogs.
Seven tips for keeping your family and neighborhood safe on Halloween
Halloween can be fun for some but dangerous for others
Do you have any suggestions or information you'd like to share? I'd love to hear from you. Please share them in the box below.