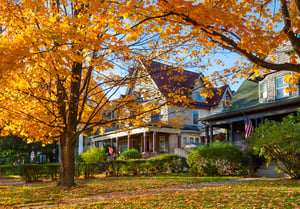 With high inflation and supply chain delays, it's more important now than ever to make sure your home and property are kept up-to-date and safe. Here are some preventative things you can do this fall to protect your property:
1. Check your smoke and carbon monoxide detectors. Smoke detectors have been around since the 1970s. Many studies have shown that working smoke detectors can reduce the chance of you or your family members dying in a house fire by 50%! They can save your life.

Carbon monoxide detectors, on the other hand, have only been around since 1993, but like smoke detectors, can be life savers. These detectors protect us from carbon monoxide (CO), a poisonous gas that's also colorless, odorless, and deadly. This poisonous gas is produced by the incomplete burning of fuels like coal, wood, charcoal, oil, kerosene, propane, and natural gas. Be sure to change your batteries regularly.
2. Trim your trees. A common claims scenario after a storm is fallen trees. High winds and saturated ground can create the perfect storm. Trimming your trees regularly, can prevent property damage caused by a fallen tree. To learn more about who's responsible for a fallen tree, click here.
3. Have a furnace inspection. As we approach colder winter temperatures, it's important to ensure your furnace is ready to keep you and your family warm. Like other mechanical items, if not taken care of properly, wear and tear can reduce operating efficiency. Here are some things you can do to maximize efficiency.
4. Have your fireplace and chimney inspected. As the temperatures drop and colder seasons approach, many of us enjoy sitting by a cozy fire with our family and friends. To me, there's nothing like a toasty fire on a snowy winter night. Before the snow flies, however, it's important to make sure your chimney is clean and ready for those fall and winter fires. If your fireplace is a wood-burning fireplace, you should be careful about creosote buildup.
5. Remove leaves from your gutters. Depending on the number of trees around your home, fallen leaves can make cleaning your gutters a dreaded task. Slimy, dirty, compacted leaves can be gross and tough to remove. However, to keep your home in good condition and to prevent damage, there are several reasons to clean your gutters.
6. Inspect your home for signs of rodents. With cooling temperatures and the leaves beginning to change, rodents are looking for a warm, cozy place to live with plenty of food. Rodent and snake infestations can cause significant damage to your home if they go undetected. Damage caused by them aren't covered by most insurance policies.
Do you have any tips or information you'd like to share? Please share them in the box below.