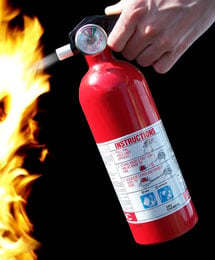 In 1925, President Calvin Coolidge proclaimed the first National Fire Prevention Week. According to the National Archives and Records Administrations Library Information Center, this is the longest-running public health observance in history.
According to the National Fire Protection Association (NFPA) 358,500 home structure fires occur each year.
The leading causes of home fires were:
Cooking equipment;
Heating equipment;
Electrical;
Intentional; and
Smoking materials.
On a regular basis, we hear about the importance of keeping our smoke detectors in proper working order. However, we don't hear a lot about other fire prevention methods. Therefore, I thought this would be a good opportunity to discuss choosing a fire extinguisher for your home.
Having a fire extinguisher available can be beneficial. However, there are some things to consider before purchasing one.
Your main priority should be getting out of your home safely. From the time your smoke alarm sounds, experts say you have two minutes or less to get out.
Don't exit with your family, and then go back in to start extinguishing the fire.
If a small fire starts in your presence, a fire extinguisher can help prevent it from spreading.
When choosing a fire extinguisher for your home, here's what you need to know.
There are five types of fire extinguishers. They are A, B, C, D, and K. A, B, and C are often found in homes and businesses.
Type A extinguishers – Used on ordinary materials, such as cloth, paper, and wood.
Type B extinguishers – Used on combustible and flammable liquids, such as grease, gasoline, oil, and oil-based paints.
Type C extinguishers – Used on electrical equipment, such as appliances, tools, and other items that are plugged in.
Type D extinguishers – Used with flammable metals and are found in factories.
Type K extinguishers - Can be used on vegetable oils, animal oils, and fats in cooking appliances. These extinguishers are used in commercial kitchens, such as restaurants and cafeterias.
For home use, you can select a multi-purpose (A, B, C) extinguisher.
The next thing to consider is weight. The size of the extinguisher needed depends on its use. Common extinguishers can weigh from two to ten pounds.
What size extinguisher is right for your family?
A ten-pound extinguisher is more appropriate in places where fire can spread in size more quickly. This size extinguisher would be ideal for a garage or workshop.
A five-pound extinguisher can be stored in your kitchen or laundry room. Since most home fires start in the kitchen, I would recommend storing it in a nearby pantry or cupboard.
A two-pound extinguisher can be stored in your car.
How do you use a fire extinguisher?
The NFPA suggests remembering the acronym PASS.
P = Pull the pin and hold the extinguisher nozzle away from you.
A = Aim low by pointing at the base of the fire.
S = Squeeze the lever slowly and at a controlled pace.
S = Sweep the nozzle from side-to-side.
If you purchase a fire extinguisher for your home, please read the instructions. Instructions can provide additional usage tips, as well as directions for how to maintain your extinguisher. Also, contact your local fire department. They may offer classes that allow you to practice using one.
Do you have any tips or information you'd like to share? I'd love to hear from you. Please share them in the comment box below.
Sources:
http://www.nfpa.org/public-education/campaigns/fire-prevention-week/about-fire-prevention-week
http://www.nfpa.org/news-and-research/fire-statistics-and-reports/fire-statistics/fires-by-property-type/residential/home-structure-fires
https://www.thisoldhouse.com/ideas/how-to-choose-and-use-fire-extinguishers
http://www.nfpa.org/Public-Education/By-topic/Fire-and-life-safety-equipment/Fire-extinguishers

https://www.usfa.fema.gov/prevention/outreach/extinguishers.html