Entertainment and Recreation
West Bend insures entertainment and recreational businesses, from amusement rentals to zoos. Literally! Here are some of the types of business in which we specialize.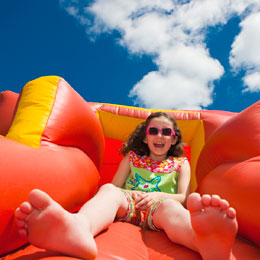 Amusement Rentals
Your business is unique and deserves specialized attention. That's why it's so important to choose a company that understands your needs. West Bend offers a comprehensive program for amusement rental operators to protect the business you've worked so hard to build. Our claim representatives are highly experienced in handling amusement rental-related losses.
Our Amusement Rental program can provide coverage for:
Carnival games and concessions
Inflatable units of all types, bounce and combo units, obstacle courses, wet/dry slides, interactive games, and many more
Climbing walls and dunk tanks
Batting cages
Concession equipment
Pony and kiddie rides
West Bend recognizes the importance and value of training in the proper use of amusement equipment. Therefore, we'll offer a reduced rate for operators who successfully complete SIOTO (Safe Inflatable Operators Training Organization) training. Please see your local independent agent for more details.
Social and Civic Clubs
You take great pride in being a member of a club in your community. You may have monthly meetings and fundraisers. Perhaps your club sponsors special events. Does your insurance program provide your club with the right protection?
West Bend understands and recognizes your insurance needs. We're committed to supporting your club with a comprehensive program designed to protect the organization to which you proudly belong. If you do have a claim, our claim representatives are highly experienced in handling social and civic club-related claims.
Our customized Social and Civic Clubs Program is designed with specialty coverages for:
Hobby clubs
Youth organizations that offer character and leadership training
Groups organized to serve the community
Clubs that raise money for charitable purposes
Clubs that hold special events for the public's enjoyment
Sports and Leisure
One of the most important things you do each day is help children, families, and individuals enjoy safe and unique sports and leisure activities. But it's just as important to make sure your business or event is properly protected so you're equipped to handle unexpected situations that may cause damage to your property or injury to your customers, players, or spectators.
Because your business is unique, it deserves specialized attention. It's important to choose a company that understands your needs and can provide the proper coverages for your business. West Bend is dedicated to providing you with an affordable insurance product designed especially for your needs.
If a client is injured or your property is damaged, you'll need an experienced team of claim professionals who will be dedicated to handling your loss. West Bend provides protection for thousands of sports-related businesses.
Our customized Sports and Leisure program is designed with specialty coverages for:
Amusement centers
Athletic camps
Batting cages
Bowling centers
Curling clubs
Golf driving ranges
Health clubs
Equine risks: boarding, training, riding
Laser tag
Leagues
Martial arts studios
Ropes courses
Running/biking/swimming races
Skating rinks (ice and roller)
Tournaments
YMCA
Youth recreation activities
Circuit training
Personal trainers
Swim clubs
Zip lines
To design an insurance program that's right for your business, be sure to talk to an independent insurance agent in your area who represents West Bend.