Plastic Goods Manufacturing
At West Bend, we're proud of our broad base of knowledge when it comes to commercial risks. In fact, we've probably insured just about every kind of business at one time or another. Over the years, however, we've developed extensive expertise of certain businesses and the skills needed to underwrite them.
Plastic goods manufacturers are those types of businesses. Because of this, we've become competitive in insuring them. Most importantly, our underwriters know and understand what coverages are necessary to protect them.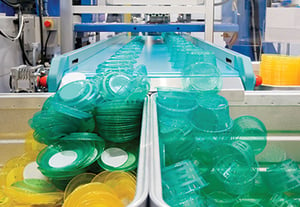 Focus
The type of plastic goods manufacturers we focus on are those involved in the second and third phases of the manufacturing process. These processes include converting basic plastic or feedstock into finished articles through bending, machining, decorating or polishing, fabricating, or painting plastic articles. Products typically manufactured are component parts, but may include finished goods and products manufactured under their label from material other than wood or metal. Our focus includes, but isn't limited to, manufacturers of household plastic goods, pump or compressor manufacturers, button or fastener manufacturers, and furniture manufacturers or assembly-other than wood or metal.
West Bend may be a good fit if your plastic goods manufacturing business has a sprinkler system designed for your building, if specific policies relating to machine guarding and lockout/tagout measures are in place, and if you employ excellent housekeeping practices.
If you think West Bend is the right insurer for your valuable business, be sure to talk to your Official Supplier of the Silver Lining. Click here to find an agency near you.