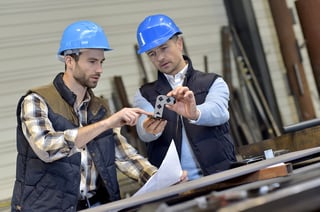 Manufacturers Errors & Omissions coverage extends the basic General Liability policy to provide payment when you (as the insured) must legally pay for damages for faulty workmanship, materials, or products. The damages must result from error, omission, or negligent act while acting in your business capacity, or from a defect in material, or in a product sold or installed by your business.
Coverage is written on a claims-made policy and may be written with any new or renewal policies for which West Bend insures the underlying General Liability policy.
These scenarios help illustrate when Manufacturer's Errors & Omissions coverage may respond to a loss:
1. Your business manufacturers a part for a customer's product. After parts are delivered to the customer, it's discovered the parts were incorrectly machined and need to be redone.
The General Liability will not respond because an error while creating the product isn't covered.
2. Your business manufactures 10,000 parts for a customer, but it's later discovered the material used to make the parts was faulty.
The General Liability won't cover the damages, because they're to your product.
Coverage limit options include $100,000, $300,000, $500,000, and $1,000,000. We offer a number of deductible options, including $500, $1,000, $2,500, $5,000, or $10,000.
Contact an independent agent for a quote on any new or renewal manufacturing business.
This blog was written by Camille Sterr, Senior Underwriter for West Bend.