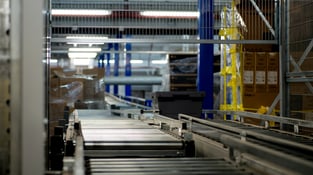 As a manager or business owner, it's horrible to watch an employee suffer a workers' compensation injury. Sharing real-life claims like this will hopefully help prevent similar injuries from happening in your manufacturing business.
An employee was performing lubrication activities on a conveyorized plastics production line. The employee had locked out and completed maintenance on one side of the machine. The employee then moved over to the second side of the machine but didn't remove the locks from the first side or verify that energy sources were de-energized and locked out on the second side. The employee stepped on to the conveyor, inadvertently activating a sensor that controls the kickout arms of the machine. The kickout arms cycled, crushing the employee's foot and fracturing it.
Possible Preventive Measures:
Eliminate the exposure requiring energy control/Lock-Out Tag-Out (LOTO) procedures. For example, consider moving all grease fittings to a location that isn't exposed to machine hazards.
Install guarding to prevent employee access to the point of operation and re-evaluate all machines to ensure employee access is eliminated when feasible. If access can't be eliminated, make sure LOTO procedures are instituted.
Ensure LOTO procedures control all potentially hazardous energy sources that an employee may be exposed to for the identified activities. On conveyor-based-system, there are typically several separate systems that interact with each other. Depending upon the work being performed, one or more upstream or downstream systems may need to be locked-out, in addition to the system being worked on.
Ensure all staff are trained on LOTO requirements and machine-specific procedures, including the documentation of when the equipment is locked out.
Ensure annual inspection is completed of energy control procedures and that employees are meeting the requirements of the program and OSHA standard.
Institute a buddy system, requiring employees to verify energy controls are appropriate before work is performed.
Contact your independent insurance agent for assistance in evaluating your Lock-Out Tag-Out program.