April is Distracted Driving Awareness Month and West Bend has many resources dedicated toward preventing distracted driving. Our initiative, West Bend Focus, includes videos and articles with useful information and real-life stories about how distracted driving has impacted lives. This initiative is a collaboration of our experts in Claims, Underwriting, and Loss Control to help keep drivers safe on the road. This month we'll be releasing new videos and articles that can be shared with drivers in your organization to help drive home the importance of driving without distractions. Be sure to check our Focus page regularly throughout the month to access this important information.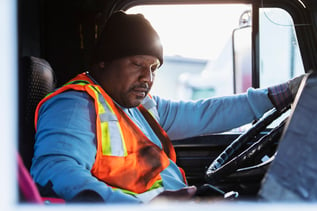 April is a great month to review your organization's driver training program to ensure your drivers are as prepared as possible to be safe on the roads. Information on distracted driving should be included in your training program. Drivers should also be given clear communication regarding your expectations for while they're driving, including your company policies and procedures. This should include no cell phone use at any time while behind the wheel.
Another safety component to review this month is how your organization is enforcing these policies with your drivers. Some businesses monitor drivers by having managers ride along with them regularly or installing cameras inside vehicles to ensure drivers aren't distracted. But even just reviewing the policies at regular intervals can help keep drivers aware of what's expected of them. Are all your drivers properly trained and driving as safely as possible? Your organization should be able to confidently answer yes to that question after this month.
By ensuring your drivers are avoiding distractions while behind the wheel, your organization can make the roads a little bit safer for your community. Take advantage of our distracted driving resources to help your drivers take this issue seriously.