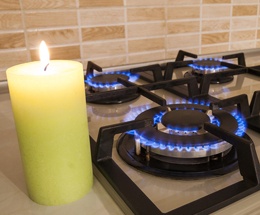 Our homes today are filled with electronics and appliances that make our lives easier and provide us with entertainment. DVD players, big-screen TVs, video game systems, and cable/satellite TV boxes overload our electrical outlets and fill up our entertainment centers.
If you bought a new appliance lately, you'll see that technology has also changed them. Our new washer and dryer consists of a few buttons and touch screens. While the touch screens look fantastic, they have more circuitry, which could lead to a fire.
According to the National Fire Protection Agency(NFPA), A fire occurs in a structure at the rate of one every 65 seconds, and a home fire occurs every 93 seconds.
Here's a list of common appliances and how they can start fires in your home.
1. Dishwashers.
Have you ever opened your dishwasher immediately after it finished its cycle? The heat that shoots out when you open the door can be overwhelming. A dishwasher contains heating elements that dry your dishes. These heating elements get wet, heat up, and cool down every time you use the dishwasher. Old or faulty elements can start a fire. Never turn on a dishwasher before leaving your home. While returning to clean dishes at the end of the day is nice, it's not worth the risk.
2. Dryers.
I've written some safety articles about lint buildup in a dryer and the importance of cleaning it often. Click the link below to see how fast a lint fire can start.
Preventing dryer fires: Experts say keeping your lint trap clean is just part of the safety cycle.

3. Microwaves.
Microwaves are very convenient. Warming up leftover meals can be a big timesaver when the family schedule is hectic. They also can be very dangerous. There have been many complaints about microwaves starting on their own and causing a fire. If you hear your microwave running and you didn't turn it on, unplug it immediately. Microwaves: a fire hazard in your kitchen.

4. Refrigerators.
One might never think of a refrigerator as a fire risk; however, an overheated compressor or an electrical short can cause fires. In addition, a light that stays on all the time can be hazardous.

5. Toasters.
In 1913, Westinghouse debuted the first two-sided toaster. Toasters have electric elements that are used to brown your bread or bagel. A fire can start if the toaster fails and doesn't turn off. Never leave a toaster unsupervised, and remove the crumbs on the bottom of the toaster regularly. In addition, please look over the electric elements for stuck crumbs.

Other common causes of house fires
1. Candles.
While candles look nice and add ambiance to your living room, never leave them unattended. On average, 20 home candle fires are reported each day.
2. Electrical.
Electrical fires can start in many ways. Some causes are old wiring, an overloaded electrical outlet or circuit breaker, and extension cords. Pay attention to your outlet the next time you plug in that extension cord or new electronic device. It may be wise to unplug something else or find a different outlet.
3. C
hildren playing with fire.
If you talk to my parents, they'll tell you they're glad their house still stands. Looking back, I ruined quite a few things in their home. Unfortunately, playing with fire made the list. According to the NFPA, 8,100 home fires occur yearly because of children playing with fire.
4. Cooking.
Have you ever left the kitchen for just a "quick second" and returned to a boiling pot overflowing? The number-one cause of house fires is cooking.
General Fire Safety Tips
Consider replacing appliances before something goes wrong. A more expensive appliance doesn't equate to a longer life span.
Develop and practice an escape plan with your family.

Don't use water to put out a grease fire.

Store matches and lighters out of a child's reach.

Avoid using water to extinguish a candle.

Don't use candles during a power outage. Rely on flashlights instead.

Clean your dryer lint screen regularly.

Unplug toasters after each use.

Inspect your dryer ducts each year.

Don't store a toaster on your counter if you have pets.

Contact an electrician if you're concerned about a wiring issue in your house.

Select the right extension cord for the job.

Avoid overloading electrical outlets.

Avoid storing things in your microwave.

Never run an appliance like the dishwasher, washing machine, or dryer when you're not home.

Test your smoke detectors regularly. Consider replacing batteries when Daylight Savings Time begins and ends.
If you have a fire in your home, the most important thing you can do is get out immediately. A home can be completely engulfed in flames within a couple of minutes. The safety of you and your family is more important than your possessions.
Do you have any suggestions or information you'd like to share? I'd love to hear from you. Please share them in the box below.
Sources
http://www.nfpa.org/news-and-research/fire-statistics-and-reports/fire-statistics/fires-in-the-us/overall-fire-problem/fire-loss-in-the-united-states
https://www.nfpa.org/News-and-Research/Data-research-and-tools/US-Fire-Problem/Playing-with-fire
https://consumerist.com/2013/08/06/6-home-appliances-most-likely-to-self-immolate/
http://www.propertycasualty360.com/2015/02/23/its-house-fire-season-here-are-the-8-most-common-f
https://www.consumeraffairs.com/news/toasters-can-be-fire-hazards-042313.html