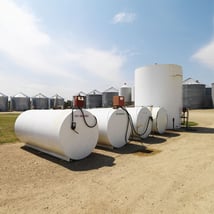 Above-ground fuel tanks can be a convenience to businesses that require frequent fueling of company vehicles, construction vehicles, lawn mowing equipment, and power tools. Above-ground fuel tanks can also present significant loss exposures in the form of fires, explosion, pollution, and theft. If your company or business has an above-ground fuel tank or is considering installing one, here are some requirements you'll need to consider:
Fuel tank safety requirements
Double walled tanks are preferable to single-wall tanks. The outer or exterior tank protects the inner tank from sun, rain, and punctures. Should the inner tank leak, the fuel will be contained within the outer tank. If there's a leak, leak detectors inserted between the inner and outer tanks will begin to float, initiating an audible or visual alarm.
Single-wall tanks, while acceptable in most areas, are more susceptible to corrosion and leaks than double-walled tanks. Single-wall tanks are required to be located in a diked area that will contain 110% of the largest tank's capacity in accordance with NFPA30. A diked area typically consists of a concrete containment that retains fuel to a depth greater than one inch. All containment devices should be inspected regularly (at least monthly) to identify and correct potential problems, such as cracks, punctures, leaks, and rain water. Standing rain water decreases the volume of released fuel the containment can hold and procedures for the regular removal must be implemented.
As a rule, West Bend does not accept fuel tanks stored above ground on metal or wood frames.
Additional requirement for all fuel tanks include:
Visible labels indicating the contents and associated hazards.
Labels should include hazard warnings, material stored within the tank, storage capacity, and tank ID number.
Flammable = "No Smoking" signs posted in both English and Spanish.
Monthly inspections of storage tanks for leaks, corrosion, and other damage.
Documentation of inspections should be kept for three years, based on federal law.
Deficiencies noted during monthly inspections must be corrected as soon as possible.
OSHA 1910.106 (b)(2)(ii)(a) requires a minimum separation of three feet for flammable storage tanks.
Tanks should not be closer than 25 feet from any building, per best practice recommendations followed by West Bend Insurance Company.
Prevention of fuel spills and leaks is the most important management tactic in minimizing pollution liability.
Barriers must be installed to protect the tank. Barriers can include piping, wood framing, concrete pillars, and/or concrete wheel stops. Curbing can be used for controlling vehicle placement near tanks. Pipe bollards are commonly installed around fuel tanks.
Some physical requirements for each compliant tank include:
Secondary containment
Overfill protection
Leak detection
Standard and emergency vent
Liquid level gauge (clock type is preferred)
Adequate lighting (for nighttime detection of leaks)
Spill kit
Along with these requirements, you should check your local fire fuels and regulations, as well as any rules and regulations the Environmental Protection Agency (EPA) and your local Department of Natural Resources ( DNR) may have in place.
Click here to download this safety summary.