The colder winter months bring unique challenges to contractors trying to continue their construction projects. Snow, wind, and ice can make jobsites treacherous for workers, damage equipment, and slow progress. However, taking a break all winter typically isn't an option. With some planning and preparation, contractors can continue most of their project work throughout the winter months.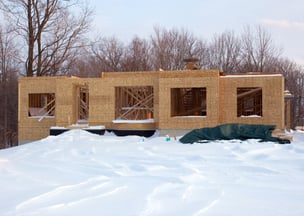 Jobsite tips
There are a few ways contractors can keep their jobsites safe and secure in the winter months. Check out these tips and read through our Safety Summary for even more tips.
Before freezing conditions set in, be sure all construction site access roads are free of potholes and uneven surfaces. Once the ground is frozen, road maintenance becomes more difficult.

Have appropriate snow removal equipment onsite. Plow snow away from the building project to avoid flooding during a thaw.

Ensure engine fluids and hydraulic oils in your equipment are rated for cold weather. Replace them if necessary.

Consider temporary site structures or site covers to enclose and protect your project and equipment.

Keep snow and watershed away from all foundations to prevent sleet, ice, freezing, and thawing from contributing to foundation cracks.
Employee safety tips
Keeping employees safe while working in cold conditions is critically important. Use these tips to help keep employees safe and then download our PDF for additional tips, common winter injuries/illnesses, and first aid steps in case an employee needs care while at work.
Ensure employees are dressed warmly, including hats, scarves, and/or masks, gloves, and several layers. Socks should be thick and made of wool or fleece. Waterproof boots and proper socks will help keep feet warm and dry.
Require employees to wear proper footwear as it will help prevent slip, trips, and falls. You can also purchase shoe grips to clip on the bottom of employees' footwear to help protect them while walking on ice and snow.
In extreme temperatures, provide a warming area for breaks so workers can have a reprieve from the cold.