One of our loss control experts was at a YMCA pool and a swimmer was up on a starting block getting ready to jump into the pool. Suddenly the block broke, sending the platform and the swimmer crashing into the pool. When our rep and the aquatics director looked at the broken starting block, they discovered the galvanized bolts holding it together had completed corroded and rusted (see photo below).
Luckily, no one was seriously injured. If the swimmer had been in the pool starting a backstroke, the heavy block could have come down on his head. To keep their swimmers safe, this YMCA plans to replace the bolts and components for all of their starting blocks.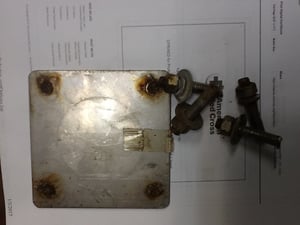 Safe Pool Equipment
Pools are full of humidity and corrosive chemicals which can be hard on metal pool accessories. This can cause any number of injuries, including being struck by a broken starting block or getting an infection from a cut on a rusty part of the pool. In addition, these pool accessories are expensive to replace. What can pool managers do to prevent these issues?
Inspect starting blocks and other metal pool components regularly. Identify issues before they become major problems.
Deal with rust. If bolts or other components start to rust, it's best to replace them. If that's not possible, scrape off the rust and repaint or reseal the area.
Invest in anti-corrosive products. There are many products that can be applied to metal parts of the pool to prevent rust and corrosion.
Replace equipment as needed. At some point, metal equipment must be replaced in a corrosive pool environment. Plan and budget accordingly for this.