Stories and videos of children being abused in childcare facilities show up in the news almost every day. Many facilities are monitored by camera systems now and often this abuse is caught on video, making it even more heartbreaking for families to witness their children being hurt. No facility ever wants this to happen, and no family deserves to go through this pain. Hiring, training, and retaining experienced, high-quality teachers is one key to preventing abuse. This is difficult in normal times and even more so these days. However, facilities owe their families and children the very best care so this can't be overlooked.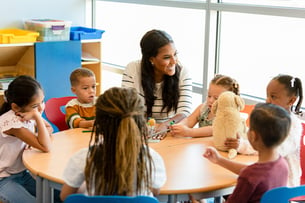 Finding and keeping the best teachers
Finding good employees is a challenge for almost every organization. It requires patience, time, and effort by the employer. A center may have to open slowly, with less children than they have space for, if they're still working on finding quality teachers. Recruiting at local colleges is a good place to start. Offering the best compensation and benefits possible can go a long way to attract quality teachers. Childcare centers are often operating on tight budgets but allocating as much funding as possible toward teachers is critical.
Besides pay and benefits, there are other ways to retain high quality educators. Making your facility as supportive as possible, by offering benefits like childcare discounts for teachers or incentives for reaching milestone anniversaries, for example, are key. Creating an environment where teachers can be successful and feel encouraged to learn and grow in their careers is also important. Provide ongoing continuing education and offer teachers opportunities to move to different classrooms or positions if they want to. Read more about creating a supportive environment to prevent abuse here. If your facility cultivates a reputation as a place where teachers succeed and feel good about their jobs, the challenge of finding quality teachers will be eased and children will be safer.