Step ladders are one of the most commonly-used pieces of equipment in many businesses. Check any supply or maintenance closet and you'll probably find a couple step ladders stored in the corner. These ladders vary from four feet to eight feet tall and are extremely useful in many situations. However, since they're so commonly used, many people don't think about taking safety precautions while using step ladders.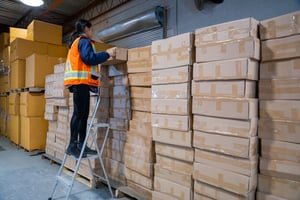 Falls, even from a short step ladder, can cause serious injuries to staff members. Here at West Bend, during a three-year period, we received 890 fall claims for a total cost of more than $18 million. Keeping employees safe is critical for any business, and expensive fall claims can negatively affect the bottom line so it's important to train staff on general ladder safety.
Safety Tips
Choose the right ladder: Help staff choose a ladder that's tall enough for the task and verify the weight capacity is adequate for both the staff member and any equipment they'll carry onto the ladder with them.
Inspect before use: Ensure that all ladders are inspected regularly and especially before use. There should be no missing bolts, rivets, or fasteners. Feet should be firmly attached and rungs should be securely in place.
Set up: If the ladder is heavy, make sure two staff members are available to move it. Ladders should be used on a level surface with enough space to open them fully and lock the spreader braces. Feet should be flat on the ground.
Climbing the ladder: Staff should center their bodies on the ladder and climb slowly, one step at a time. Three points of contact should be maintained with the ladder as much as possible.
Working on the ladder: Don't exceed the maximum weight or load capacity. If possible, have another staff member hand the person on the ladder their tools and equipment. Instruct staff not to overreach, lean to one side, or try to move a ladder while on it. They should get down and move the ladder while on the ground. Don't allow staff to stand on the top or the second-from-the-top rung of the ladder.
Employers should ensure that any staff members who use ladders are properly trained before using them. Posting ladder safety tips and regularly reminding staff members about safe ladder usage can go a long way in keeping employees safe.
Click here to download our technical bulletin containing this useful safety information.