There are many things to consider when deciding to open a childcare facility. Childcare is in extremely high demand, so it makes sense that there are new facilities opening to accommodate more children as their parents go back to work in person. Prospective childcare business owners spend time finding a physical location or converting part of their home to be the childcare area, obtaining toys and materials, and hiring staff. It can be tempting to skip the process of obtaining a license from state regulators but doing so would be a mistake. While there can be more hoops to jump through, the benefits of licensing far outweigh the extra work.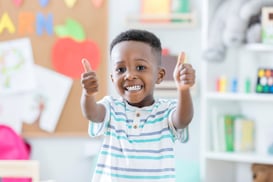 Benefits of being a licensed childcare provider
Safety: While regulations vary by state, all childcare licensing regulations are designed to keep children as safe as possible. A new childcare owner may not be aware of all the different pieces that go into creating a safe environment for infants and children so following licensing rules will be very important.
Quality of care: Licensing regulations typically include curriculum requirements and best practices for different age groups of children. This helps facilities ensure they're providing age appropriate and high-quality care to the children they serve.
Staff training: Most state regulations include certain requirements for staff training. This is critically important so that all childcare staff know the basics of CPR/first aid, abuse prevention, and safe sleep, among other topics.
Attracting parents: Many parents are only looking for childcare facilities that are licensed as they know this means a higher standard of safety and quality.
Accountability: In most states, regulators visit licensed childcare facilities on a regular basis and partner with owners and administrators to address any issues or violations found. This goes a long way toward keeping children safe.
Ease of obtaining insurance: Many insurance companies will only provide insurance for facilities that are licensed. Insurance is critical to protecting any childcare business, so being a licensed facility will provide business owners with more options and coverage.