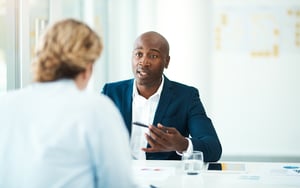 Chiropractic clinic, business office, construction site...it doesn't matter what industry you're in, employee reviews are important. Not only for the employees themselves, but also for the organization and for the end customer. Let's take a look at why:
To measure and reward performance. It helps employees stay on task and complete goals. And in a years' time, company strategies and priorities can shift, possibly editing the time frame or work that must be done.


Employee development. Use this time to prioritize developmental needs, such as skills training, mentorships, or special projects. Employees can feel more valued if their jobs are aligned with future growth and opportunities.


Give your employees a voice. Not only is this a time for managers to speak, employees should also be encouraged to provide honest feedback. Ask what part of their job makes them the happiest and if there's anything that needs improvement.


Builds trust in the workplace. Managers don't need to be best friends with employees, but they should get to know their team members in order to build relationships with them. People want to be treated as people, not numbers.
Some employees may need much more frequent feedback and recognition for their work than a yearly review. Many companies are moving away from the standard annual process to a more continuous feedback model. Learn more by checking out this article written by Christine Crandell on Forbes.com.