In the News:

TREMONTON, Utah (AP) – A Utah State University van overturned on a freeway about 65 miles north of Salt Lake City, killing seven students and injuring three, the Utah Highway Patrol said. The vehicle rolled four times on Interstate 84 near Tremonton, and all 10 occupants of the van were ejected, said Trooper Jeff Nigbur. The Dodge van came to rest on its wheels about six feet from a 50-foot-deep ravine. It appeared the left rear tire on the van had blown as it tried to pass another vehicle, and speed was a contributing factor as it appeared the van was going about 60 mph, officials said. The van's roof was collapsed to the windows.
15 Passenger Van Crash Statistics
When choosing to operate a 15-passenger van, a driver is not only susceptible to the same exposures of everyday commuting, they are also introduced to an entirely new array of dangerous situations. Inferior weight distribution and an extremely high center of gravity make these large vehicles susceptible to devastating rollover accidents. Since 2001 more than six hundred people died in 15-passenger van accidents. Almost two-thirds were the result of a rollover.
How to Properly Load a 15 Passenger Van
Other than hiring responsible and experienced drivers with clean motor vehicle records, proper loading of a 15-passenger van is the easiest way to minimize the likelihood of catastrophic accidents. With a higher and deeper center of gravity than most commuter vehicles, weight distribution is extremely important. Consider placing heavier passengers in front of the rear axle, and always load the front rows completely before placing more passengers on the deeper benches. When transporting three passengers for example, it is much safer to situate all three on the first bench seat. Under no circumstances should each rider occupy their own individual row.
With so much room dedicated to hauling people, most vans save very little space for luggage or other cargo items. Avoid loading gear on the top of the van whenever possible, as this will place the center of gravity even higher and increase the potential for a rollover. Try packing gear under the front seats before overloading the back cargo area. A tow-along trailer should be used in place of a rooftop carrier if transporting large amounts of cargo is absolutely necessary.
Check the Tire Pressure
Proper tire inflation is important for all vehicles. When full, a 15-passenger van displaces 45% of the total weight of the vehicle on the left rear tire. This disproportionate distribution increases the likelihood of a blown tire. All four tires should be checked each week. Underinflated tires are at greater risk of shredding. If a tire blows out while traveling at high speeds, the likelihood of a rollover increases exponentially.
Proper Tire Inflation
Even if a tire has pressure recommendations inscribed along the edge, the van manufacturer guidelines should be used as the benchmark. Vehicle guidelines have been made to fit one particular vehicle, while tires are designed for use on a wide variety of automobiles. Beginning in 2003, tire PSI information must be located on the driver side doorjamb. Older vehicles may list this information on various doorjambs, in the glove compartment, or on the inside of the gas cap door.
Speed as a Factor in Auto Accidents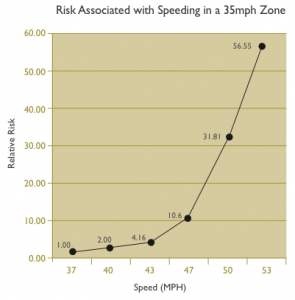 Over the last several years, speeding has been the primary factor in more than 40% of all road deaths. A study in New South Wales comparing the increased level of risk as a driver increases speed reveals drivers going 53 mph in a 35 mph zone are 56.55 times more likely to be in an accident. This data includes vehicles of all sizes. When paired with center of gravity and tire pressure issues, speed management is even more significant for drivers of 15-passenger vehicles.
By maintaining safe speeds and avoiding routes with speed limits in excess of 45 miles per hour, drivers of 15-passenger vans greatly reduce the risk of an accident. The weight of larger vans makes braking quickly nearly impossible, which means more than four seconds of space should be kept between a 15-passenger van and the car in front of it.
Blind Spots on 15 Passenger Vans
Frequent lane changes also contribute to automobile accidents. The length of 15-passenger vans increases the area of blind spots and makes lane changes more hazardous. Drivers need to spend plenty of time growing accustomed to the side and rear-view mirrors of a larger vehicle, and should become acclimated with road tests before transporting passengers. Whenever possible, a second employee should assist the driver when backing up. Previously agreed upon hand and voice signals should be used every time the vehicle reverses.