A crisis can range from a drowning or medical emergency, to allegations of abuse or a violent intruder. In these unexpected situations it's important to have a concrete communication plan in place. A well-designed communication plan can mitigate some of the damage and protect your organization from financial and reputational ruin.
Steps in a Communication Plan
A crisis communication plan has a very specific order. Priority should always be given to contacting family of anyone involved in a crisis. From there, you can move through the rest of the communication plan.
Notify the family

of everyone involved.
Inform staff

of the crisis and any lasting impact it may have on the workplace.
Work with the media

to present a clear picture of the crisis.
Share important details with the public

to prevent rumors or confusion.
Communicating with Families after a Crisis
Step one in a crisis communication plan is notifying the families of everyone involved. If one or more individuals are seriously injured or killed, their family members or next-of-kin must be the first people to hear from the organization and should be contacted as soon as possible.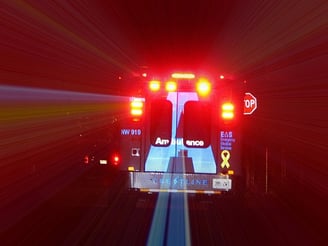 Imagine, for example, someone has just drowned at a community pool. There are emergency personnel, upset patrons, and traumatized staff everywhere. In the midst of all this chaos no one thinks to contact the victim's family. Several hours later an angry family member of the victim arrives after being notified by a friend who was also in the pool.
Hearing about a tragic incident from someone outside of the organization adds to the confusion and trauma, and, in the end, may breed additional resentment towards the organization. While it may be incredibly difficult, employees should express empathy without admitting fault or wrongdoing. It's important to have someone who is comfortable with delivering hard news be the person to contact the families involved. If possible, someone with a pre-existing relationship with the family may be best suited to have this difficult conversation.
Communicating with Staff after a Crisis
In some crisis situations it's entirely possible that many of your staff members aren't aware that anything is wrong. While it may be tempting to try to keep staff members in the dark, we can't recommend this strategy. Speculation runs rampant when people aren't provided with the necessary information.
Picture a scenario in which an individual with diabetes has low blood sugar and faints at the facility. Staff members don't see this happen, but they do see an unresponsive person loaded into an ambulance. Rumors spread and get wilder and wilder. Eventually, the organization is called by the media for comment after a staff member posts on their social media page that someone died at the facility.
In order to prevent these situations, clear communication with staff members is key. While protecting the privacy of those involved, explain to staff members what happened and how it will affect the organization. Remind staff members they are not obligated to speak to anyone in the media and the best thing to do is to refer questions to the organization's spokesperson. Explain to staff that silence does not imply guilt and can often be the best way to deal with any questions from the media.
Communicating with the Media after a Crisis
Potentially one of the hardest parts of handling a crisis is handling the media. Media outlets can be relentless in searching for a comment on an incident getting lots of publicity. Reporters may not even identify themselves as part of a news organization on the phone.
What happens if one of the organization's employees has been accused of abusing a child. Media organizations surround the facility, looking for information. No one is the designated media spokesperson; so many different representatives of the organization give long, rambling statements about how they will do a better job screening future employees. With no one controlling the narrative misinformation can spread quickly.
To keep the media appeased but still protect the organization's interests, one or two people at the organization should be designated to speak with the media. These roles should be defined before a crisis even occurs and everyone at the organization should know who the spokespeople are.
Tips for Handling Questions from the Media
Do not admit fault or blame anyone.
Keep statements short and to the point.
Don't discuss details of the incident.
If the police are involved, explain that you are cooperating with the investigation but cannot comment due to the ongoing investigation.
Don't discuss names, medical conditions or treatment.
Don't mention any prior incidents.
Don't make any factual admissions, like "One lifeguard was on duty".
Avoid statements like "I wish we had done…" or "We should have…".
Communicating with the Public after a Crisis
Finally, it's important for your organization to communicate with the public in a clear, consistent way. This is a way for the organization to get ahead of the media coverage or ease intense media scrutiny.
Imagine a violent intruder entered the facility and attempted to hurt people. Luckily, the intruder is quickly arrested and everyone is safe. Hoping to keep the event quiet, no statement is released by the organization. Soon, media outlets are reporting that the organization has security issues and are not doing anything to keep patrons safe.
By releasing a brief statement on the organization's website or social media accounts, the public will have correct, first person information about the incident. As is the case with handling the media, only one or two key people should be authorized to speak on the organization's behalf. Again, be extremely cautious with details. Run any statements by an attorney first, because once a statement is out there it cannot be taken back.