In the News: A woman was found unconscious at the bottom of a lap pool. Employees of the facility quickly removed her and performed CPR until EMS arrived. The woman, who was later found to be a visitor at the facility, was rushed to a nearby hospital for treatment. Sadly, she died of complications the following evening. An autopsy revealed there was, in fact, no water in the woman's lungs, and the cause of death was consequentially determined to be heart-related.
Traditionally, this would have been an open-and-closed case since the woman's chances of survival would have been slim whether she was swimming or not, but during the investigation it was determined that the lifeguard on duty left the pool deck. Several witnesses claimed seeing no guard on duty, but the lifeguard denied these claims. Regardless, specialists determined the victim was likely underwater for more than one minute. If the lifeguard had followed the 20 Second Rescue Lifeguard Commandment and CPR had been started sooner, not only would her chances of survival have increased significantly, but the facility would have likely avoided all liability in the claim.
Luck vs. Vigilance
Do we commend the lifeguard who has successfully resuscitated multiple victims, or the lifeguard who has never had to make a rescue? As professional rescuers, lifeguards have a legal duty to provide care in a variety of life-threatening situations, but if you talk to anyone with a rescue tube and whistle, they will tell you their main priority is preventing accidents from ever happening in the first place.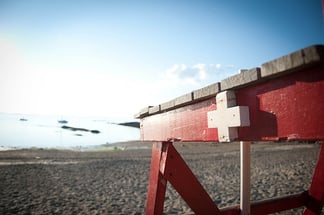 With that said, how do we assess and audit the effectiveness of a lifeguard's efforts?
Assessment & Training
Investigate ALL Accidents. The best way to make an informed decision is to compile and analyze all relevant data. No detail is too small. A committee designed to regularly assess ALL incident/accident reports (inside and outside of the pool) can provide valuable insight into the key risk factors affecting your facility. Consider these questions:
What was the root cause of this accident (i.e., staffing levels, defective equipment, poor communication, etc.)?
Why were we unable to prevent this from happening? Could we have responded faster?
What was the staff-to-patron ratio? How many lifeguards were on duty?
What steps must we take to prevent this from happening again?
In-Service Training
Perfect practice makes perfect. With the dozens of skills and processes a lifeguard is expected to perform without fault or hesitation, regular in-service trainings are crucial to the continued development of your staff. An effective in-service training program is the perfect ongoing assessment tool, but it must be designed with long-term goals in mind. Factors such as the length of your season, operating budget, facility hours, and lifeguard availability should be considered before planning. Watch the In-Service Training Lifeguard Commandment video to learn more about the importance of in-service trainings.
Impromptu Assessments
Lifeguarding is not easy. A combination of mental and physical fatigue, typically exacerbated by monotony, humidity, and dehydration, provides the building blocks for negligent lifeguarding. While frequent rotations and breaks are helpful, a recent study of lifeguard vigilance proved "that the vigilance capacity cannot be maintained at an optimum level for more than 30 minutes." Consider these impromptu assessment tools that allow management to recognize and quantify lifeguard awareness:
Submersibles
Lifeguards are taught to scan not only the surface of the water, but also the pool bottom. Splashing kids, strong winds, and sun glare all make this a challenge. Several aquatics directors have had great success testing proper surveillance techniques by having patrons randomly drop a submersible object somewhere in the pool. Lifeguards on duty are expected to spot the object within a particular timeframe (most standards are typically ten seconds) and then perform some action such as standing up, waving a hand, or blowing a whistle. Brightly colored hockey pucks or submersible dummies make great assessment tools. For a real challenge, some directors even use something as small as a coin for evaluation.
If a lifeguard meets the performance standards of your facility, it is important to recognize the achievement. Aquatics directors have the responsibility to recognize exceptional lifeguarding and maintain morale and motivation. If the standards are not met, it is important to analyze the performance with the guard. Repeated offenses or minimal improvement may warrant suspension or termination.
Competitions
Lifeguards from around the world flock to the Gold Coast of Australia for the annual lifeguarding championships. With more than 6,000 participants each year, the event is second only to the Olympic Games in terms of competitor participation! Similar, and obviously much smaller, events take place all over the United States. Teams typically go head-to-head in a variety of events including relay races, resuscitation rescues, and more. Most are held at the end of the season, giving guards the opportunity to practice the skills they worked on during in-service trainings. By involving other local pools in the competition, aquatics directors can gauge the skills of their crew against other lifeguards in the community.