Reality Alert: A sewer backup caused the lower level of a childcare facility to flood. Six inches of water resulted in extensive damage. Toys, books, office furniture, and other classroom supplies were among the items damaged. The business closed for a week while the water was removed and repairs were made. With lost income and employees' salaries, plus the cost of cleanup and replacement of damaged items, total costs exceeded $100,000.
Most businesses and households need extra storage space. Basements often provide that extra space for items like electronics, toys, and furniture. Unfortunately, this leaves important belongings vulnerable to water damage. According to the National Flood Insurance Program, floods are the number-one disaster in America, causing over $3 billion in claims every year.
Basements flood due to snowmelt, heavy rains, pipe bursts, and sewer backups. Taking a few simple steps to prevent flooding can save hundreds of thousands of dollars in cleanup costs and replacement of damaged items.
Causes of floods
Flooding can occur for many reasons: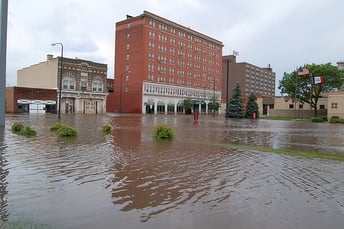 Clogged gutters
Foundation cracks
Window leaks
Blocked sewers
Sump pump failure
Pipe bursts
Heavy rain or melting snow
All buildings, from large YMCAs to small in-home childcare centers, can experience catastrophic losses due to flooding. Even an inch or two of water can cause serious damage.
Prevention
Clean gutters and downspouts
If gutters are free of debris, water from heavy rainstorms will be carried away from the building and won't pool up next to and seep into the foundation.
Fix foundation cracks
Cracks can be fixed with epoxy or masonry sealer. If there are major or worsening cracks, call a professional.
Install window well covers
Basement window wells can easily fill with water. Clear covers will let light in but keep rain out.
Inspect sewers and clean septic tanks
Schedule inspections and cleaning at least once a year.
Install a generator or battery backup for sump pumps
If the power goes out during a big storm, a sump pump is useless. Having back-up power for sump pumps can make all the difference. It is also helpful to have more than one sump pump.
Insulate pipes
Frozen pipes can cause significant damage. Keep building temperatures consistent and high enough to prevent freezing. Also, make sure pipes are well insulated.
Install a one-way float valve in floor drains
These devices can prevent water from backing up from the floor drain. Float valves (like the one shown here) can be found at most home improvement stores for an average of $25.
Invest in water-sensing devices
Many products on the market will alert building owners if water is starting to flood in their basement so they can remove valuable items and try to stop the flooding. These devices are often very affordable; for less than $50 a building owner can purchase a sensor that will alert them by text or email.