Reality Alert: An experienced childcare worker often used nap time as an opportunity to prepare for arts and crafts activities later in the day. Most of the art supplies had been stored on the top shelf of a closet which the employee was unable to reach without assistance. While the kids napped, she quietly stood on a small child's chair and reached over her head for the container. The chair suddenly shifted and the worker lost her balance and fell straight back. While she only suffered minor bruising, a two-year-old child behind her was not so fortunate. The young girl's upper leg was fractured and ultimately required extensive surgery. The child's parents removed the girl and her sister from the facility citing safety concerns.
Step up the Safety
Vibrant colors and decorations have been proven to stimulate young children and are undoubtedly an important aspect of a fulfilling childcare experience. Safety while decorating daycare rooms, however, is often an afterthought for the busy childcare provider. Every childcare facility, regardless of size, should have a dedicated step stool for caregivers to hang decorations and reach miscellaneous items. As a side note, some fire department inspectors/jurisdictions do not allow decorations to be hung from ceilings because of the fire hazard and possible interference with buildings' sprinkler systems.
Claims Analysis
Every year West Bend handles thousands of workers compensation and liability claims for our customers. Year in and year out the most common injuries are related to slips, trips, and falls.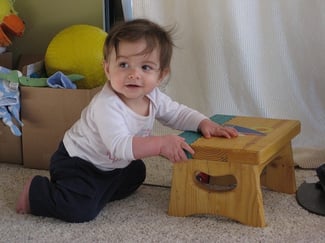 In fact, 66% of the 50 most costly worker's compensation claims for childcare services were the result of slip, trip, or fall injuries. And two of the top five were the result of falling from a table or chair! More than $400,000 in surgery and rehabilitation costs could have been avoided had a $20 step stool been made available.
What to Look For
You may be overwhelmed by the seemingly unlimited choices of step stools and ladders available in stores. You'll find that the ladder most appropriate for your facility will depend on several variables. How much does the heaviest person who may use the ladder weigh? How tall is the shortest person who may use the ladder? What is the greatest height someone may try to reach? Include your entire staff in the purchase of a new step stool and consider everyone's opinion. Make sure any stool selected is OSHA and/or ANSI approved.
Storage and Usage
A ladder or step stool should be stored securely and out of reach of children, but it also needs to be in an area that is accessible and convenient for employees. You may have the nicest step stool on the planet, but if your staff doesn't know where it is and how it works, they aren't going to use it.
In an attempt to avoid catastrophes like the one outlined in the story above, step ladders should never be used in the vicinity of children. Ceilings and other hard-to-reach places should only be decorated before children arrive in the morning or after they leave in the afternoon. The same is true for any other task requiring a ladder, such as changing a light bulb or resetting a clock. Nap time is not an appropriate time to use a ladder.
Any employee found standing on a chair or table should be reprimanded immediately. Explain that their actions not only endanger their own safety and well being, but also that of the children in their care, then show them where to find the closest step stool and how to use it.