Due to their weight – from 150 to 500 pounds – and their propensity for tipping over, portable soccer goals pose a serious hazard for all children. Soccer goals can tip over from a number of causes including strong gusts of wind or children climbing on them. There are even instances of soccer goals tipping over spontaneously due to improper design of weight distribution. The best way to keep soccer goals from tipping is to anchor them properly to the ground using stakes or weights, but these are absent most of the time.
Soccer Goal Crushes Child
A 9-year-old boy died when a metal soccer goal fell down on him while he and some friends were playing soccer. The young boy was playing soccer after church with a group of friends and family when one of the other children started screaming that something had happened. The boy's father and uncle ran over and saw the soccer goal tipped over on his head. The boy's uncle said the goal was so heavy he could not lift it himself.

After freeing the boy from beneath the goal, they took him to a local hospital where doctors pronounced him dead due to head trauma. It is unclear what caused the goal to fall, but what is certain is that the goal was not secured in any way.
Soccer Goal Injury Statistics
While soccer goal injuries are rare, when they do occur they are often severe or fatal. The popularity of soccer with young kids makes the exposure to these injuries even greater. The United States Soccer Federation and the Consumer Product Safety Commission conducted studies concerning soccer goal injuries. Some of the more compelling findings they made include:
Every year almost 15 million kids aged 6-17 play soccer
There are an estimated 500,000 soccer goals in use in the United States, the vast majority being unsecured and moveable, posing the greatest dangers
The average soccer goal can weigh up to 500 pounds
Soccer goal tip-over accidents injure an estimated 200 people every year
Over the last 20 years there has been at least 1 fatality from soccer goal tip-over accidents every year
Preventing Soccer Goal Injuries
Injuries from soccer goals are completely preventable if you are aware of the danger and take a few simple steps to ensure all soccer goals are safe and secure.
Anchoring Soccer Goals
The most important way to keep soccer goals from tipping over is to secure them firmly to the ground. This can be achieved a number of ways, but the best way is to stake the goal into the ground.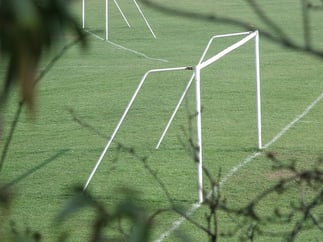 There are a number of different types of stakes available to complete this task including auger, peg, j-hook, and more. The exact stake and configuration depends on the weight of your goal, the size of your goal, and soil considerations.
Another effective method for preventing soccer goals from tipping over is to use weights. Sandbags or counterweights can be used on soccer goals to keep them firmly in place and prevent them from falling. It is important to make sure that the weights used are sufficient and that they are routinely maintained.
Supervision Soccer Play
Another key component in preventing injuries from soccer goals is to supervise all children playing around them. A large portion of soccer goal injuries occur when an individual is climbing on them, hanging on them for fun, or while putting up nets. It is important that children are supervised to make sure they never climb on them and that anyone putting up nets uses a ladder or step stool to discourage them from hanging from the goal.
Always Replace Stakes After Mowing
Another key issue with soccer goal injury prevention is maintenance. Too many times maintenance staff will remove anchors from soccer goals in order to move them so they can mow the grass around the goal and then never replace the anchors. Make sure to instruct maintenance staff to replace soccer goal anchors after removing them. Also, inspect the goals to make sure they are secured before any scheduled soccer activity begins.
Place Goals on Even Ground
The location of portable soccer goals is also an important consideration. Soccer goals will be much more likely to tip over if they are located on uneven ground. The flatter the surface, the more stable the soccer goal will be.
Inspect Soccer Goals
Over time soccer goals and soccer goal anchoring devices can become worn down or damaged. Weather and use can degrade the quality and increase the likelihood of injuries. It is a good idea to have maintenance staff routinely inspect all soccer goals and make sure they are in safe working order. This is especially important to do before any scheduled soccer activities.