Reality Alert: A group of children were celebrating a birthday party at a fitness center. One of the kids threw a basketball into the air and knocked a sprinkler head. Although the impact was relatively minor, the fragile glass bulb in the sprinkler head shattered, activating the sprinkler, causing hundreds of gallons of pressurized water to flood the hardwood basketball court. Staff members immediately contacted the fire department and cleaners, but didn't know to shut the water off. Doing so would have prevented major damage. Between drying out the court, refinishing the salvageable floorboards, and repainting lines, the entire job cost more than $50,000.
Preventing Broken Sprinkler Heads
Once activated, a sprinkler line will continue to flow until the water is shut off. Typical sprinkler installations are capable of discharging between 20-40 gallons of water every minute. That's enough water to cover more than 40 square feet of gym floor in less than five minutes. The water will eventually seep into the floor boards, causing the wood to expand and distort. If water is left to sit long enough, the floor boards will buckle and any hopes of salvaging the hardwood disappears.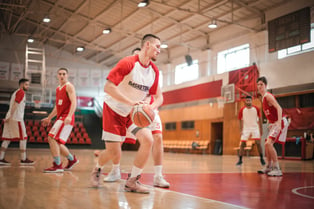 Sprinkler Head Covers
Not all Ys and fitness centers have sprinklered gymnasiums. Those that do must take extra precautions to prevent a sprinkler head from inadvertently discharging. A wide variety of commercial grade sprinkler head covers are available. An installer can easily retrofit these sturdy metal cages to your existing sprinkler system. A standard basketball can pack quite a punch when heaved across a room, so make sure the cages can withstand the force. Consult a professional sprinkler contractor to determine the most appropriate cover for your needs.
Increased Supervision
In an ideal world, every broken sprinkler head would be accidental. Unfortunately, kids tend to do the darnedest things. Hanging lights, ceiling fans, wall clocks, and sprinkler heads are attractive targets for a group of under-stimulated and under-supervised kids. A random walkthrough of the facility at peak hours is a simple and effective supervision technique. Encourage members to notify staff if they witness raucous behavior and develop internal procedures to handle members who fail to follow rules.
Minimizing Damage from Broken Sprinkler Heads
If prevention efforts fail and a water pipe bursts or a sprinkler head opens unexpectedly, you can save your facility thousands of dollars simply by knowing how to quickly locate and operate the water control systems. The first step is knowing where to find the controls. All management and maintenance staff should know where the sprinkler room is and how to gain access.
The next step involves working with the contractor who services your suppression system. Have them explain your role in the event of an accidental discharge. We encourage Ys to involve as many management and maintenance staff members as possible to ensure someone with knowledge of the system is always on duty.
As a final obligatory note, never attempt to shut off a suppression system until you have definitively determined there was, in fact, an accidental discharge. Initiate the evacuation plan immediately if the system engages because of a fire.