Reality Alert: A busy YMCA pool was filled with young children participating in swim lessons. A swim instructor brought a three-year-old over to the side of the pool and took off his floatation device. When she turned to help another child, the three-year-old slipped into the water and immediately went under. The pool area was so loud that the instructor didn't even notice. Luckily, the child's mother was close by and quickly grabbed the child out of the water but this could have easily turned into a tragic situation.
Most YMCAs and other community organizations offer swim lessons for all ages and swim teams for older children. Swim lessons are important for young children to learn how to be safe in the water. Many would argue that swimming is an essential life skill. Swim teams offer older children a more competitive environment to hone their skills. These activities can fill pools with children at varying skill levels. As such, some safety precautions should be taken during these times.
Swim Lesson Safety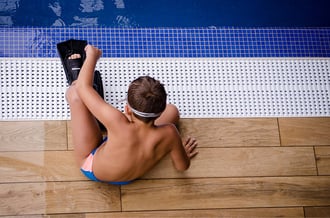 Swim instructors cannot also serve as a lifeguard while they are teaching, even if they are certified. There should be designated lifeguards doing normal rotations and monitoring the pool during swim lessons.
Instructors should not remove floatation devices until children are out and away from the edge of the pool. Sometimes instructors will remove floatation devices while the child is still in the pool and holding onto the side. This isn't safe.
During lessons, an instructor will often take one child out to work on a skill while the others are holding onto the side. Instead, children who are waiting for their turn should sit on the edge of the pool.
When working with a swimmer in the pool, swim instructors should position themselves while in the water so they can see the children in their class waiting for their turn.
Swim Team Safety
As with swim lessons, coaches should also not act as lifeguards while they are coaching. Again, designated lifeguards are needed during swim team practice.
Develop a check in/check out policy so coaches are assured that every child gets out of the pool after practice and is safely back with their parents/guardians.
Develop policies to eliminate any one-on-one contact between coaches and swimmers. This means a coach should not transport just one swimmer to and from a swim meet and shouldn't have one-on-one meetings with a swimmer in a secluded setting such as an office.
Ensure there is an adequate ratio of coaches to swimmers. Younger swimmers especially will need more individualized coaching to develop their skills properly.