Suffocation at Daycare: An 18-month-old girl suffocated at a childcare center after becoming entangled by a cord hanging from a set of window blinds. The child was left unattended, and when she crawled towards the blinds her head become trapped in the cords. The child's parents have brought suit against the childcare center for allowing the cords to hang dangerously, and for not adequately supervising their daughter.
Window Blind Strangulation Statistics
The Consumer Product Safety Commission (CPSC) conducted a study over a 10 year period to determine the dangers posed by various types of window treatments. The CPSC's discoveries resulted in the recall of millions of window treatments. The study also led to the creation of several new regulations concerning the design and construction of all newly manufactured window treatments. The CPSC study found:
Every month

at least one 7- to 10-month-old child dies

from window cord strangulation
During this period another child suffers a near strangulation
60% of the incidents involved cords used in horizontal type blinds
40% of incidents involved continuous loop systems used in draperies and vertical blinds
The CPSC has recalled over 5 million varieties

of shades, blinds, and window coverings
The CPSC recalled 50 million Roman shades and blinds in one of the largest product recalls in the organization's history
Over 80% of all blind entanglement deaths and injuries occurred with older products that have either been recalled or do not meet current standards
Preventing Window Blind Entanglement
Deaths and injuries associated with window cords is a serious problem.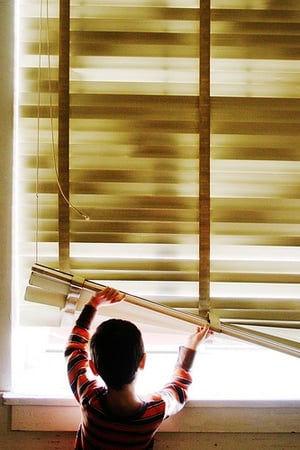 The best to way to prevent injury is to ensure all window coverings are up to date and not on a product recall list. Please note that the majority of window blinds sold prior to 2000 have dangerous cords that can be pulled out by children. The best way to prevent death and injury from window blind entanglement is to remove all older blinds and replace them with new cordless blinds. While replacing all window fixtures is the best way to protect children, we recognize this can be an expensive process. Here are other ways to protect children from window blind hazards:
Move all furniture, cribs, and beds away from windows. This

prevents children from reaching dangling cords from windows and blinds

that can become entangled around their necks.
Inspect all blinds and shades to identify ones with accessible cords. Be sure to check all sides of the blinds to make sure there are no accessible cords.
Keep all window pull cords and inner lift cords out of the reach of children. If the window has tasseled pull cords make sure they are short and inaccessible to children. Continuous loop cords should be permanently anchored to the ground or wall. Blinds with inner lift cords should be properly installed and inner lift cords should be inspected to make sure there is minimal movement.
When using horizontal shades or blinds make sure to secure the cord into position when they are lowered.
Properly Retrofitting Existing Window Blinds
While not ideal, there are ways to retrofit existing blinds to make them safer. Depending on the type of blinds, many manufacturers offer free retrofit kits due to recalls or changes in blind safety standards. Be sure to:
Remove all looped cords: If any blinds or shades have looped pull cords eliminate the loop by cutting it and installing tassels on each end.
Utilize tie-down devices: These devices are designed to remove excess slack from blind and curtain cords. Simply insert the cord into the device and securely fasten it the floor or ground.
Use cord stops: Cord stops should be installed on all pre-2001 horizontal blinds. They lock the blinds in place and prevent a child from pulling the cord down through the slats.