Distracted driving is a serious problem we face, so it's a good thing April is National Distracted Driving Awareness Month. According to the National Highway Traffic Safety Administration (NHTSA), crashes are still the leading cause of teen deaths.
What's wrong with this picture? Every time we look down at our phones, we take our eyes off the road for an average of four to five seconds. Think of all the things that could happen during this short time:
The car in front of you could stop.
You could run a stop light/sign.
A family pet could run out in front of your car.
A child could run out in front of your car.
You could swerve and cross the centerline.
You could swerve and hit a pedestrian.
Texting and other types of distracted driving could change your teen's (and your!) life forever.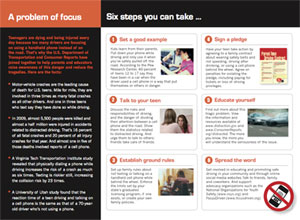 Education and leading by example are the best ways we can teach our teens to avoid distracted driving. The attached brochure offers ideas you can discuss with your teens to help them understand the dangers of texting and distracted driving. If you're still not getting through, consider tough love. Take away the phone or car. While it might be an inconvenience for you, it could save your son's or daughter's life.
West Bend is pleased to offer resources that can help prevent distracted driving.
Do you have any tips you'd like to share? I'd love to hear them; please share them in the box below.