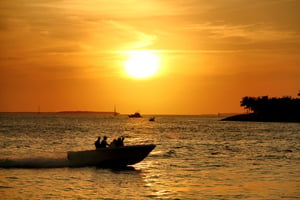 If you own a boat, now's the time to start having fun in the sun. If you're thinking about buying one, there are many benefits to ownership. Benefits include:
Creating family memories
Staying active
Reducing stress
Supporting your passion
Enjoying nature
Unfortunately, a great day on the water can turn tragic when simple safety tips are forgotten. Each year the U.S. Coast Guard responds to incidents that result in injury and death. The leading contributors to watercraft crashes include operator inexperience, inattention, recklessness, and speeding. Whether you're fishing, riding in a boat, jet skiing, or paddling a kayak, here are some safety tips that can keep you and your family safe.
1. Take a boating safety course. If you're new to boating or have kids who want to drive the boat, consider enrolling your family in a boating safety course. Courses cover a variety of topics such as:
Boat safety
Boat handling
Identifying weather patterns
Navigation skills
To find an online class, click here or visit your state's Department of Natural Resources (DNR) website.
2. Pay attention to the weather. There are plenty of weather apps available to help you keep track of weather conditions while you're boating. If you know phone service is an issue, make sure you check the local forecast before going out on the water. Heavy rain, lightning, and high winds can be catastrophic if you're out on the water when a storm front rolls in.
3. Life jackets save lives. Before you head out on your water adventure, double check to make sure you have a life jacket for each person on board. Make sure children always wear them. If you choose not to wear one, make sure you keep an eye on the weather conditions and put one on if they become dangerous. Big waves or high winds could toss you overboard causing panic and possibly a fight for your life. A life jacket can keep you afloat and keep your face out of the water if you're unconscious. Like a seatbelt, wearing a life jacket can increase your chance of survival!
4. Keep your boat afloat. It's important to understand your boat's capacity requirement. Carrying too many passengers or equipment could throw your boat out of balance. A balanced boat performs more efficiently and keeps those onboard safe.
5. You're the captain of the ship. Your number one priority should be the safety of your passengers and crew. Explain your rules so everyone on board knows what's expected. Show them where extra life jackets are kept, as well as fire extinguishers. Setting expectations up front can create a safer and more enjoyable voyage.
6. Review state laws and navigational rules. Understanding the laws and rules is important to keep you and other boaters safe. Jumping into a boat and going for a ride without this knowledge can be dangerous. To familiarize yourself with navigational rules and your state's boating laws, click the links below.
https://boatoncourse.com/safety-videos/
https://www.uscgboating.org/regulations/state-boating-laws.php
7. File a float plan. Whether traveling to another country or taking a road trip, it's always a good idea to share your itinerary with friends, family, or a neighbor. This is also true if you're going boating, especially on a large body of water. If an emergency arises, it may be difficult for someone else to remember what you told them. A float plan identifies:
Type of vessel
Communication systems
Survival gear
Persons onboard
For a copy of a float plan, click here.
8. Communication is key. If you go boating on decent size inland lake, you'll probably see boats pulling skiers, tubers, and wakeboarders. Depending on the size of the lake and the number of boats, congestion can become a problem. Having a spotter on your boat and understanding basic hand signals is critical. To familiarize yourself with the basic hand signals, click here.
9. Stow a boat safety kit. A boating emergency can arise at any time. No matter the size of your boat, make sure you have the necessary survival items. These items include:
Prescription medication
Water
Packaged food
Sunblock
Flashlight
Whistle
Fire extinguisher
Navigation lights
VHF radio
Cell phone
Visual distress signals
A bucket or bailer
Extra fuel
Oars or paddles
Please note this isn't an all-inclusive list. Depending on the size of the body of water, you may need additional supplies.
10. Be respectful. Respect the boat, passengers, and other boaters. Trying to push the boat beyond its limits can be dangerous. Trying to send a skier or tuber over a big wave may seem like fun, but it can cause serious bodily injury, especially if the person isn't skilled or expecting it.
Do you have any tips you'd like to share? I'd love to hear them; please share them in the box below.
Source: