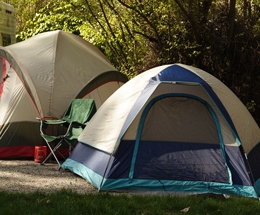 Camping is a favorite past time enjoyed by many. Early morning walks, fishing, and making S'mores over the campfire can create many fond memories for your family.
Have you ever returned to your campsite to find that thieves turned it upside down and stole your cooler, grill, or electronics? Unfortunately, if this has happened to you, fond memories can quickly diminish.
Here are some tips to keep your family and campsite safe and secure when camping this summer.
1. Lock your vehicle. When venturing off on an early morning hike, lock your personal belongings in your vehicle or carry them with you. If you're tent camping, valuables can easily be stolen.
2. Get to know your neighbors. After you arrive and set up your campsite, introduce yourself to your neighbors. Meeting your neighbors can help you better gauge whether or not they're trustworthy.
3. Get an extra set of eyes. If you leave your campsite for a day trip, ask your neighbors to keep an eye on it for you.
4. Lock items to a tree. If you have an expensive grill or bikes, secure them with a cable locked around a nearby tree.
5. Choose the right campground. Select a campground that has security measures in place, such as safety patrols, a security gate/checkpoint, and surveillance cameras.
6. Properly store your food. Thieves can also take the form of furry critters. Store your food in airtight containers. This not only keeps it fresh, but it also prevents animals from noticing its scent and raiding your campsite.
7. Keep an eye on Mother Nature. Mother Nature can quickly whip up a summer storm. Make sure your belongings are properly secured. Store expensive items in your car or RV. Properly stake items to help keep them secure from strong winds.
8. Dry your gear during the day. If you have expensive camping gear that needs to air out, do it during the day. Never assume you can leave it out overnight and expect it to be there in the morning.
9. Build a shed. If you're at a permanent site, you may wish to build a shed to house your expensive items.
10. Leave it at home. Camping provides an opportunity to enjoy the outdoors with family and friends. Leave the tablet or laptop at home and enjoy a simpler life.
11. Set up your own surveillance system. Many retailers sell inexpensive cameras that can detect motion and help you keep an eye on your campsite while you're away. In addition, the system can send you text alerts to notify you of a situation.
Do you have any tips or information you'd like to share? I'd love to hear them; please share them in the box below.