Many of us have dogs and cats that we love dearly. They bring us so much joy, companionship, and love. It's no wonder we consider these fur babies to be family.
When they get hurt, it can be a financial burden. It is essential to be financially prepared to care for your pets if the unforeseen happens from an accident resulting in injury or even death.
As a pet owner, you may buy pet health insurance that'll help reimburse you for eligible vet bills, provide a 24/7 vet helpline, and provide accident, illness, and optional preventive care for your pets. The cost of this type of insurance varies based on the coverage you purchase. A quick internet search can aid you in finding the right coverage for you and your family pet.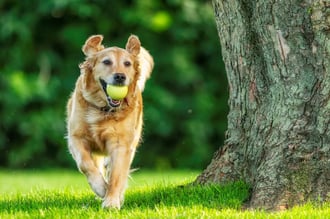 But did you know that your homeowners policy may provide Pet Aid coverage? While Pet Aid coverage is not pet health insurance, some homeowners insurance policies may have built-in coverage or an endorsement that could be added to your homeowners policy to help cover sudden and accidental direct injury or death to your cat or dog.
If you have a Home and Highway® policy, this coverage is included under the homeowners portion of your policy. There's no additional premium charge or deductible for this coverage. The perils that'll afford coverage if your pet has a sudden and accidental direct injury or death include:
Fire and lightning
Explosion
Smoke
Windstorm and hail
Vehicles and aircraft
Falling objects
The maximum limit that'll be paid is $500 for each pet injured or killed in a covered event and up to $1,500 total for any one event. Payments include reasonable and necessary veterinarian expenses, as well as the cost of adopting another pet if your dog or cat should die from injuries.
While no one wants to think about the unimaginable, knowing there may be coverage to help ease out-of-pocket expenses if a loss happens can give pet owners peace of mind during a stressful situation.
Don't hesitate to contact your independent insurance agent to discuss what your policy may include for Pet Aid coverage or if there's an endorsement you can add to your homeowners policy for this type of coverage.
Do you have any suggestions or information you'd like to share? We'd love to hear from you. Please share them in the box below.
This blog was written by Kim Bechler, senior personal lines underwriter.
This article is intended for general educational and illustrative purposes only and should not be construed to communicate legal or professional advice. Further, this article is not an offer to sell insurance. Please consult with your licensed insurance agent for specific coverage details and your insurance eligibility. All policies are subject to the terms, conditions, limitations, definitions, and exclusions contained therein.