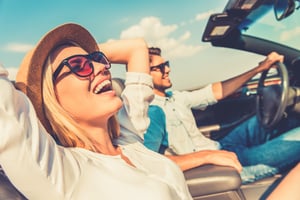 Every year millions of people travel the globe to visit and explore. No matter your destination, renting a car may be a part of your plan. If it is, are you prepared?
After a long flight, bus ride, and wait in the rental car line, you've finally made it to the front of the line. With a sigh of relief, you walk to the counter and are greeted. All you want to know is if your car is available and if you can get the keys to continue your journey. And then, you're asked the question. Would you like to buy our insurance that provides coverage if something happens to the car? As an insurance professional, this is still a question that makes me think. I should already have coverage, right?
Understanding what your policy covers before you start your travel is important and can help you in this situation. However, one of the questions we frequently receive from our policyholders is: Are rented vehicles covered by the personal auto policy?
While the most common scenario is renting a private passenger vehicle while on vacation, this also applies to renting a moving truck or motorhome for personal use.
Car rental companies recommend that you buy their collision damage waiver (CDW) or loss damage waiver (LDW). These waivers remove the right of the rental car company to charge you for damage to their car. While this can offer you peace of mind, it can be expensive, and you may already have coverage under your personal auto insurance policy.
The standard policy language developed by Insurance Services Office (ISO) and used by many personal auto insurance companies provides coverage for rented vehicles. However, this can be limiting, as it only covers damage identified as collision and other-than-collision and a deductible will often apply. There may also be limits to the type of vehicle covered.
Collision insurance coverage provides protection for damages caused by upset of your covered auto or impact with another vehicle or object.
Other-than-collision (Comprehensive) provides protection for damages caused to your car, which are not collision related.
West Bend's Home and Highway® policy, on the other hand, includes rented vehicle coverage. This allows us to provide the coverages above, plus any other damages for which you're found legally liable – including those assumed via contract (aka the rental agreement) – up to the limit of liability. Additionally, under liability coverage, there's no deductible. The liability coverage automatically applies to four-wheel vehicles licensed for road use when rented for personal use.
This is a feature we call out as especially unique to our Home and Highway policy because of the broad coverage. Again, all insurance providers and their coverage forms differ, so make sure to contact your agent before signing the liability waiver and driving off!
If you do contact your agent before traveling, here are some questions that should be a part of the conversation. Please note: The answers here are specific to coverage provided by the Home and Highway policy but they'll still help you understand how insurance coverage works.
1. Who's covered for rented car coverage? The "insured" and a "family member" as defined by the personal auto coverage form.
2. Is there a coverage territory for rented car coverage? Yes, the coverage territory is:
1. The United States of America, its territories, or possessions
2. Puerto Rico
3. Canada
3. Is there a limit to the amount of coverage West Bend will pay on a covered loss to a rented car? Yes, the Property Damage or Combined Single limit is the total amount we'll pay for damages to the rented car.
4. Will West Bend pay for loss of use to a rental car company? After a loss, our Claims department will investigate to determine if the rental car company did indeed suffer a loss of use due to damage to the rented car; we'll only pay if warranted. If we find there were other fleet vehicles available for rent while the damaged vehicle was being repaired, there was no loss of use. In that case, we'll deny this portion of the claim. If they can validate they experienced loss of use, we'll provide coverage for a reasonable period. For example, replacing a windshield shouldn't take more than a day.
If you're traveling outside the U.S., Puerto Rico, and Canada, it would be wise to purchase additional coverage.
Do you have any tips you'd like to share? I'd love to hear them; please share them in the box below.
This article is intended for general educational and illustrative purposes only and should not be construed to communicate legal or professional advice. Further, this article is not an offer to sell insurance. Please consult with your licensed insurance agent for specific coverage details and your insurance eligibility. All policies are subject to the terms, conditions, limitations, definitions, and exclusions contained therein.