Is your pool divided into zones of protection? This term refers to different areas of the pool assigned to a lifeguard. Zones make it easier for lifeguards to keep track of swimmers and keep them safe. In many aquatic environments, there's only one lifeguard in charge of monitoring the entire pool. This can put a lot of pressure on one person to scan the pool and identify and respond quickly to any emergencies. Using zones of protection and multiple guards, when possible, can alleviate this pressure and keep pools safer.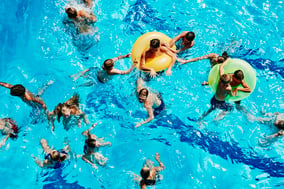 What to consider when identifying coverage zones
Our Safety Summary, "Are Your Lifeguards in the Zone?" contains helpful information on how to ensure proper coverage of your pool by multiple lifeguards. Some tips to consider for different coverage zones include figuring out the hot spots, or popular areas, of the pool and how non-swimmers are identified. Additionally, is there a slide or other area of the pool where many swimmers always congregate? This area might need to be its own zone, with dedicated lifeguard coverage during busy times. If there's an area of the pool where most of the non-swimmers end up, like a zero-depth entry area, this is another area that may require its own zone.
Once the pool has been split into different zones, lifeguards must know exactly which area of the pool they're responsible for. Posting a chart with each lifeguard's zone can be very helpful. Guards should be scanning their entire zone every 10 seconds. During lifeguard in-service training, the zones of the pool should be reviewed, and guards should be able to ask any questions about the responsibilities of each zone. Pool safety can be greatly increased by dividing the pool into different zones and ensuring lifeguards are properly guarding each zone.