Lifeguards are a critical component of pool safety. During the summer months, lifeguards working outdoors are exposed to conditions that make it difficult for them to do their jobs. Heat, sun exposure, wind, and even rain can make a lifeguard's job much more challenging. Additionally, lifeguards may have other jobs or outside activities that make them fatigued. All these issues can come together for a dangerous combination of a tired, dehydrated lifeguard who isn't able to adequately supervise their area of the pool. So, what can organizations do to ensure their lifeguards are able to tolerate the conditions at their pool?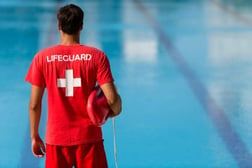 Encouraging healthy habits for lifeguards
While organizations can't dictate what their guards do outside of work, they can encourage their employees to get enough rest. Educating guards on the dangers of being fatigued on the job can help. Any lifeguard who's falling asleep at work should be disciplined and potentially dismissed if they can't change their habits. A sleepy lifeguard isn't effective. Allow guards to stand up and stretch if they're seated during their shift to help them stay awake and alert.
Organizations can also ensure guards are provided with adequate opportunities to stay hydrated. Providing water bottles and encouraging guards to drink regularly can encourage this healthy habit. When the weather is very hot, lifeguards must get adequate breaks to get out of the sun and cool off. Encouraging lifeguards to wear sunscreen, caps or visors, and sunglasses can protect them from the sun. Organizations can also ensure guards are getting enough swim practice by including swim conditioning during all in-service training. Guards must be able to swim to wherever they need to in the pool and perform whatever rescue is needed.
By taking weather conditions into account and encouraging healthy habits, aquatics directors can help keep their lifeguards alert and able to respond to any emergencies.