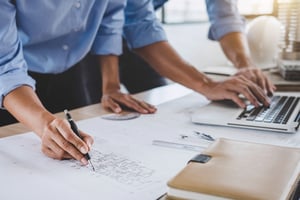 We care about your architect firm and know how important your office equipment is to daily operations. To help you understand insurance coverages and how to prepare for the unexpected, we've explained some claim scenarios for you.
Over the weekend, a large storm rolled through and lightning struck. Due to the lightning, many items in your firm were damaged, most importantly the printer. After working with local office supply stores to get quotes and find the same printer, you can get the printer replaced. This is a relief because the printer is a huge part of day-to-day operations. After paying your $1,000 deductible a new printer valued at almost $6,000 was installed. With the other damages from the lightning, the total loss paid by insurance for this claim was approximately $8,000.
You arrived at work one day and had difficulty accessing your files. Finally, upon opening your email, you saw a message from a suspicious email address asking you to pay ransom in order to access any of your files again. You immediately called your IT person to grab your computer to resolve the issue. Some data was lost and a few of your employees had to spend extra time to re-enter data that was either lost or damaged. After your deductible was applied, $1,350 was paid by insurance to cover the time spent re-entering the data and paying the IT person to remove the virus.
Make sure to talk to your independent agent today to ensure your business has the adequate coverage.