There are many steps to starting a business; it can take years for an aspiring business owner to get everything in order to open their doors. From securing funding, finding a physical location, and purchasing inventory to developing a marketing plan and hiring staff, there's a lot for a new business owner to figure out and plan for. It's a labor of love for many small business owners. That's why it's even more important to ensure that all this work is protected by adequate insurance. However, many new business owners don't know much about commercial insurance, including the kinds of coverages they need.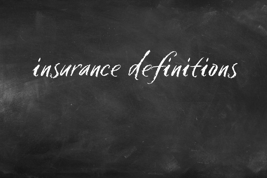 Basic insurance definitions
Check out a few useful insurance definitions below from the National Association of Insurance Commissioners or NAIC.
Insurance: An economic device transferring risk from an individual to a company and reducing the uncertainty of risk via pooling.
Limits: Maximum value to be derived from a policy.
Premium: Money charged for the insurance coverage reflecting expectation of loss.
Claim: A request made by the insured for insurer remittance of payment due to loss incurred and covered under the policy agreement.
Property: Coverage protecting the insured against loss or damage to real or personal property from a variety of perils, including but not limited to fire, lightening, business interruption, loss of rents, glass breakage, tornado, windstorm, hail, water damage, explosion, riot, civil commotion, rain, or damage from aircraft or vehicles.
Product liability: Insurance coverage protecting the manufacturer, distributor, seller, or lessor of a product against legal liability resulting from a defective condition causing personal injury, or damage, to any individual or entity, associated with the use of the product.
Replacement cost: The cost of replacing property without a reduction for depreciation due to normal wear and tear.
Actual cash value: Repayment value for indemnification due to loss or damage of property; in most cases it is replacement cost minus depreciation.
Workers' Compensation: Insurance that covers an employer's liability for injuries, disability, or death to persons in their employment, without regard to fault, as prescribed by state or federal workers' compensation laws and other statutes.
Loss: Physical damage to property or bodily injury, Including loss of use or loss of income.
Deductible: Portion of the insured loss (in dollars) paid by the policyholder.
Commercial auto: Coverage for motor vehicles owned by a business engaged in commerce that protects the insured against financial loss because of legal liability for motor vehicle related injuries, or damage to the property of others caused by accidents arising out of the ownership, maintenance, use, or care-custody & control of a motor vehicle.
Insurance agents
While gaining some basic insurance knowledge is a very good idea for new business owners, nothing can replace the expertise of an independent insurance agent. Finding a trustworthy agent can be an invaluable asset throughout the life of the business.