Companies with large fleets of vehicles, from large semi-trucks to smaller vans, are always looking for ways to make their fleets safer. Auto accidents can be dangerous and expensive. In fact, motor vehicle accidents are the leading cause of work-related deaths in the United States. Installing dashboard cameras in company vehicles can help keep employees safe and decrease insurance claims costs.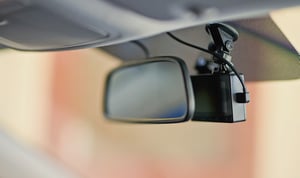 Many companies sell these types of cameras which are installed on different parts of the vehicle. Rear and front dash cameras are most commonly used, but there are also options for interior driver-facing cameras. Cameras can be battery powered or powered by the vehicle's electrical system. It's important to pick a camera system that provides footage in high enough quality to see facial features or license plates. It's also important to check how the camera's footage is stored and for how long.
Dashboard cameras can be very beneficial for companies. One reason many organizations use dash cams is to provide an objective record of what happened during an accident. Having a dash cam often eliminates the "he said-she said" aspect of many accidents. The camera can clearly show important facts like who had the right-of-way. This can go a long way in defending a driver and can reduce fraudulent claims of injuries or accident set-ups. Dash cams are also useful for fleet managers to monitor drivers and identify those who may need extra training or discipline. A periodic review of footage from vehicle cameras can help managers improve their drivers' safety behind the wheel.
West Bend is pleased to offer our customers a special discount on Thinkware Dash Cams. Check out this flyer for more information!