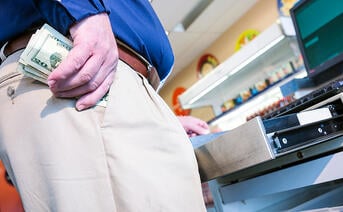 Employee Dishonesty coverage is an important optional SMARTbusiness™ coverage that can be overlooked, and sometimes underinsured. The actions of employees may not always be what we expect. Adding Employee Dishonesty coverage to your SMARTbusiness policy can be a "security blanket" if an employee steals money, securities, or other property from your business.
An employee is anyone who's under your direction and control while performing services for your business. Employees are directly compensated by you via salaries, wages, or commissions.
A limit of $5,000 of Employee Dishonesty coverage is automatically included in your SMARTbusiness policy; if you have PlusPak, our enhancement endorsement, $10,000 of additional coverage is included. These higher per-occurrence limits are also offered:
● $5,000 ● $10,000 ● $25,000 ● $50,000 ● $100,000 ● $150,000
If you need even higher limits, please talk to your agent.
Employee Dishonesty coverage is rated based on the number of officers and employees in your business who handle, have custody of, or maintain records of money, securities, or other property. Be sure to provide this information when you talk to your agent about adding Employee Dishonesty coverage should be added to your policy.


Nick Listwan
Commercial Underwriter - Iowa
View Nick's Profile