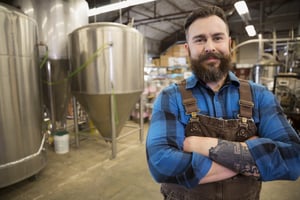 The popularity and sheer number of craft breweries, wineries, and distilleries are on the rise. In the US, between 2016 and 2017, the number of:

-Regional craft breweries increased 15.5%;

-Microbreweries grew 19.3%; and
-Craft distillers rose 26%.
In addition, the number of US wineries steadily increases by 4% each year. We're excited to offer a new Brew, Wine, and Distill Pak that, when coupled with the Property Plus Pak, will protect the property needs of these fast-growing businesses.
Let's look at the additional coverages available to address the unique property needs of breweries, wineries, and distilleries:
Adulteration or Contamination – included
Business Income/Extra Expense - $25,000
Contract Cancellation - $25,000
Product Sample Protection - $25,000
Trellises or Unharvested Crops - $25,000
Valuation – Market Value for brewery, wine, and/or distillery stock
Vessel Collapse – included
Vessel Leakage - $50,000
Cost of excavations, grading, backfilling, or filling – included
Foundation – included
Underground pipes, flues, or drains – included
Harvest crops – included in the Building and Personal Property coverage form
Plus Pak Commercial Package Policy – includes these property coverages:
Attached Outdoor Signs – included
Change in Temperature or Humidity - $50,000
Employee Theft - $5,000
Fine Arts - $25,000
Money and Securities - $5,000
Peak Season – 80% coinsurance required (increased to 50%)
Liability:
Liquor Liability
Special Events
Employment Practices Liability Insurance (EPLI)
Employee Benefits Liability
Contact your independent insurance agent to find which coverage is best for your business.
Resources:
https://www.brewersassociation.org/statistics/number-of-breweries/
https://usawineratings.com/en/blog/insights-1/how-many-wineries-are-there-in-the-united-states-37.htm
https://www.beveragedaily.com/Article/2018/07/18/Number-of-US-craft-distilleries-rises-by-26