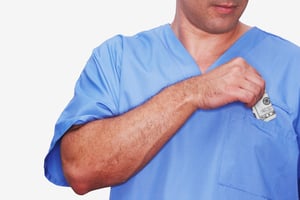 Almost every business needs crime insurance. While it's important to have the right coverage to protect against crimes committed by outsiders, it's also important to have the right coverage to protect against crimes committed by employees in your dental office.
Embezzlement is theft or misappropriation of funds placed in one's trust or belonging to one's employer. Companies of any size are at risk for embezzlement and no industry is immune from employee theft, although healthcare is on the list of the most-targeted sectors. The 2017 Hiscox Embezzlement Study indicated:
$1.13 million average (mean) loss from embezzlement;
55% of cases occurred at companies with fewer than 100 employees;
37% of cases were committed by someone in the finance or accounting function;
30% of cases occurred in the financial services or government sectors; and
Over a quarter (28.7%) of schemes lasted for more than five years.
While you can't prevent embezzlement, fortunately, this type of loss would be covered by an employee theft policy. This is probably the single-most important type of crime coverage.
Include employee embezzlement coverage in your dental business insurance policy
Coverage for this exposure is provided under crime- employee dishonesty coverage. This is a type of coverage that nearly every organization needs, because employee dishonesty losses are excluded from coverage under virtually all commercial property policies. Coverage applies to theft by any individual meeting the definition of "employee" without any need to list the names of all potentially covered employees. The limit of insurance shown in the declaration applies to each loss, regardless of how many employees were involved in causing a loss, and regardless of whether the employee(s) causing the loss can be identified. Items covered by the "theft" would be money, securities, and "other property." The "other property" must be tangible, so it wouldn't cover loss of information. We've received some claims from dentists that cost $65,000 and another was $125,000. Protect yourself by adding this coverage to your commercial business insurance policy today.
To learn more about this coverage for your dentist insurance, please contact your independent insurance agent.