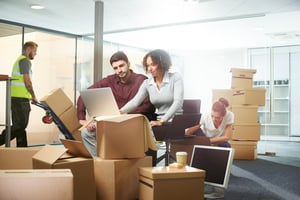 Your business is important to us so, we provide coverages tailored its unique needs. Learn how some of these coverages come into play in this claim scenario.
A business consulting company was in the middle of an office move. There were many different people in and out of the building helping to coordinate the move. Some computer equipment was moved in the morning and by the end of the day it was nowhere to be found. The business consultant assumed it was one of the sub-contractors helping with the move who stole the computers.
After a full theft investigation, it was ruled that the equipment was in fact stolen. Police reports were filed and theft forms were filled out. Luckily, this business had purchased the property plus pak, which covers a business theft loss, as an addition to their business coverage.
After the $500 deductible, a check for $3,411, the replacement cost for the equipment, was sent to the company. We hope this example provides you with the information necessary to help you understand why it's so important to ensure your business has the right coverage.