A recent news story detailed how a toddler escaped a childcare facility and wandered out onto a busy street. Luckily, a passing driver saw the child and acted quickly to prevent a dangerous situation from becoming worse. When the good Samaritan returned the child to the center, his teachers had no idea he was missing. While this may seem like a rare scenario, unfortunately these types of incidents happen more often than they should. Children are accidentally left out on playgrounds, left behind in the cafeteria or other part of the center, or they leave out of unlocked doors without their teachers knowing. Parents are trusting providers to keep their kids safe and accounted for. By implementing strong child tracking procedures, facilities can avoid a dangerous missing child situation.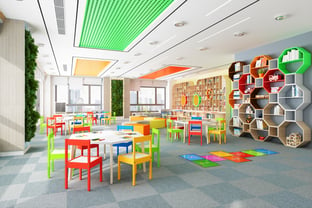 Child tracking procedures
The first step for childcare facilities is to create and implement strong check-in and check-out procedures. Many facilities now utilize apps for this, where teachers can quickly and easily track when children arrive and when their parents pick them up. A paper check-in/check-out sheet can work just as well. Teachers need to be trained on the importance of checking children in and out promptly and always knowing how many children are in their care at any time.
On top of check-in and check-out procedures, facilities need a system for tracking children throughout the day. Many times, this is done by simply performing a name to face count at regular intervals. Teachers must actually see and match each child's face to their name on their check-in sheet in order to make sure this count is accurate. These counts should be performed at regular intervals but are especially important during transitions such as going outside or to the cafeteria. The importance of child tracking procedures should be emphasized during onboarding and during continuing education for teachers. By implementing and following these simple procedures childcare staff can keep track of all the children in their care throughout the day.