Summer break will be here soon and typically this means an influx of school-aged children in childcare programs. It also means a lot more heat and sun for all children! Summer is a time when many programs take kids on lots of field trips, especially the older ones. All of this can add up to a lot of fun, but it also creates some additional risks childcare providers should be aware of during these warm months.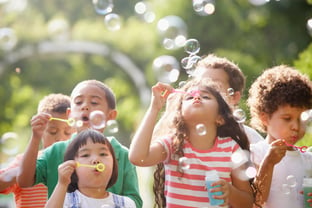 Summer heat safety
During the summer, children are often outside for longer periods. Childcare providers typically plan fun outdoor activities for kids to take advantage of the nice weather. There are so many benefits to outdoor play, so this is great! However, it's important for providers to take precautions to keep kids safe in the heat. Providers should be aware of the signs of heat-related illnesses and should make sure children have access to shade and plenty of water. It's also very important for children to have on lots of sunscreen, especially if they're exposed to direct sunlight. Infants who can't wear sunscreen yet must be always kept in the shade.
Safe summer field trips
Field trips are often the highlight of the summer for childcare providers, with many taking trips to water parks, libraries, zoos, and museums just to name a few. Field trips can be a lot of fun but also take careful planning and prep by providers to keep children safe. Knowing what to expect is key, so providers should ensure they've visited the site beforehand or at least have done as much online research as possible. Children should buddy up and there should be many times throughout the day where everyone meets up and all children are accounted for. Read through our article for these and other safe field trip tips.
By taking safety into account this summer, childcare providers can offer a fun and safe summer experience for the children in their care.